There's a number of ways to celebrate the end of the year. For some, it's all about wearing green underwear, eating twelve nuts, twelve grapes, and packing a bag to leave at home. For others, it's the typical night out extravaganza in around the world style, followed up by watching bowl games for the entirety of the first day of the year in a near comatose state. For me, I like to try and get out at least once at the end of December. It helps me feel like I haven't become the blob after eating oodles of home-made Peppermint Bark and other delicacies throughout the Thanksgiving to New Year's Eve period. Getting out at the end of the year is tricky – sometimes it feels like the only place you get to is the mall; but, I always find it worthwhile because it allows me to recharge my batteries, appreciate the beauty of winter, reflect on the year past, and set goals for the coming year.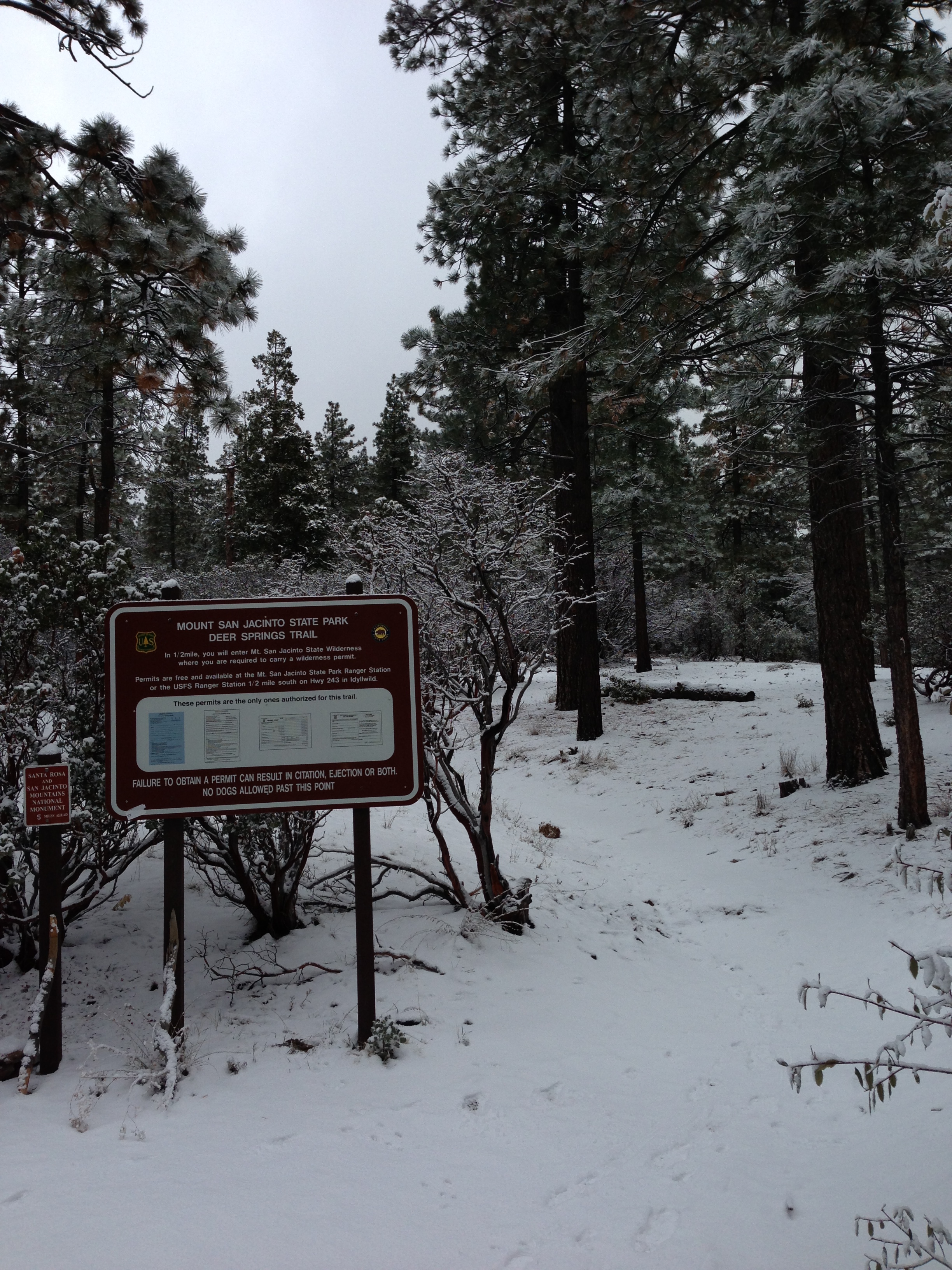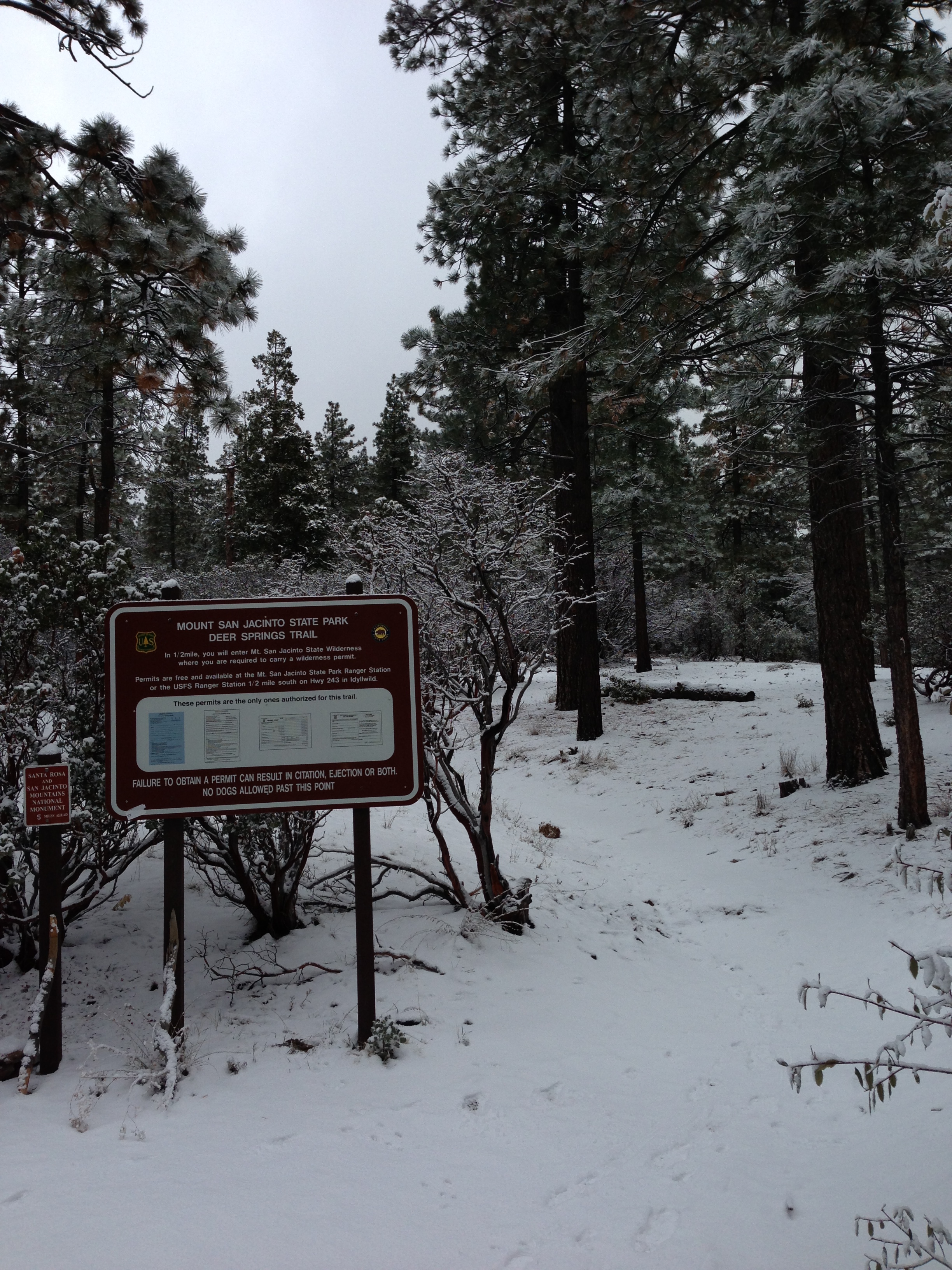 Last year, I had a great hike along the Laguna Crest (discussed HERE). Yesterday, I decided I'd mix things up a bit, and try to bag Mt. San Jacinto. Even though I usually take the Long Valley Route (discussed HERE), I decided to mix it up a bit yesterday and head up from Idyllwild via the Deer Springs Trail that I had climbed earlier this year to Suicide Rock. Alas, I didn't get the alpine start to bag the peak that I envisioned for one reason, and one reason alone: I was lazy. On the plus side, I did enjoy a great nine mile roundtrip hike from the trailhead to just past Strawberry Junction. Having hiked this section of trail just yesterday, December 30, 2012, here's my take on the conditions on the Deer Springs Trail and the western side of San Jacinto.
Trail Conditions: There is one thing and one thing only to say about the trail conditions at this point in time, and that one thing is "SNOW". Yes, there is a lot of snow and ice on the trail, and, if you ask me, this is a great thing. As a regular visitor/hiker/mountaineer/skier to San Jacinto, I was disappointed to see and experience the lackluster winter conditions that existed on the mountain during the earlier months of this year, and last year (read about that HERE); but, this year, winter is back, and this is a great thing for wilderness conditions and activities, and preventing wildfires later in the season. What this also means, however, is that if you are visiting the San Jacinto region during this time of year, you will have to be prepared for the winter conditions that exist – car chains if you don't have 4WD/AWD; proper clothing/gear; and most importantly, a map/compass/GPS, and knowledge of how to use them.
I arrived at the Deer Springs Trailhead around 9:45 a.m., to find it surprisingly deserted – probably because the winter storm that blew through Southern California this past weekend was still clearing around the mountain. At that point, it was 19 degrees at the trailhead, and there was approximately 1-3 inches of snow on the ground. If you've never been to Deer Springs, the trailhead is approximately one mile outside of Idyllwild, and the parking area is directly off Highway 243 (Directions); and the elevation is 5600 feet. So yes, let me reiterate again – when there's 1-3 inches of snow at the trailhead, the word for trail conditions in general is definitely "snow".
As it was 19 degrees or so with a stiff breeze, I didn't want to hang around the parking lot, so I immediately set off along the trail. From the parking area, the trail was covered with 1-3 inches of dry, powdery snow with some drifts in places of up to 6 inches. It is worth noting that when I returned later in the day, a fair amount of this accumulation had melted off within the 5600-6000 range of elevation; however, there is enough snow that I suspect that patches of snow/ice will linger for the next couple weeks even at these "lower" elevations.
From the trailhead to the Suicide Rock divide, 2.3 miles up the trail, the trail was totally covered by snow. From 6,000 feet of elevation on up to 7,000 feet, I would guess that there was a base of 4-8 inches of snow/ice, mostly dry powder, but with some drifts of above one foot, and several spots with thick packed powder/ice. Given that it is winter, and the temperatures will not be rising anytime soon, it is reasonable to expect to be hiking in snow from 6,500 feet on up for the rest of the season. From the Suicide Rock junction, I elected to keep heading toward the peak.
Between 7,000 and 8,000 feet, the snowpack present on the trail and the mountain substantially increased to what I would guess was a one to one and a half foot base with perhaps another fresh four to six inches of snow atop that; again, powder, to packed powder in spots. By the time I hit Strawberry Junction (1.8 miles from the Suicide Rock divide, elevation 8,100 feet), my legs were burning from the constant uphill trail breaking. I had seen no one from the trailhead on; and due to a combination of good navigation skills, and general familiarity with the terrain had basically followed the trail the entirety of the way. Even though I left a fairly distinct set of boot prints, I'll again caution any readers from blindly following my tracks – or any tracks, without appropriate orienteering equipment (maps, compass, GPS), as such a tactic is a surefire way to get lost in the winter as you do not know where an unknown party's tracks may lead.
At Strawberry Junction, the weather, already iffy for most of the day, decided to turn ugly on me, and started dumping serious amount of snow on me from that point on. As I had the gear for it, I decided to head up a little further to see if the weather again changed, and to see what I could see since I was having a good time. I decided to turn back shortly thereafter (probably 1 mile past Strawberry Junction) as I was proceeding upward in a serious blizzard, which I knew was not particularly wise. I was able to follow my route back, and descended safely. But, the good news here is this: if you like winter mountaineering or other winter activities; San Jacinto is once again the spot to be in Southern California; and based on the amount of snow that will stay from 6,500 feet and up, there will be many great opportunities available during the next week of clear conditions, so be sure to get out there and enjoy it!