Skydiving. Unlike many outdoor activities, skydiving is something that everyone has an opinion on, whether they have experienced it, considered it, or ruled it out as something that will never occur in this lifetime. Also, unlike many outdoor activities, skydiving is an "extreme" sport, and something that has a higher barrier to entry than many outdoor activities. One of the main costs that impacts the sport is that unless one happens to be USPA Certified, one must take their first jump with an instructor in a tandem rig. It is also worth noting that in 2016, with the advent of base jumping, wingsuits, bungee jumping and other newer extreme sports, skydiving is not perceived as "extreme" as it was twenty years ago. But, for the casual adventure-seeker, or for someone who has never participated in an "extreme" activity, it is something that still provides a huge rush of adrenaline. Even though I had participated in many "extreme" or "adventure" activities over the years, skydiving for me was something that was always off on the horizon – meaning that while it was something that I wanted to do, it wasn't something I was going to do right away. However, a couple of weeks ago, I decided that it was time to make my future plans presentplans, and took my first jump.
Review: For my first jump, I decided to go to Skydive San Diego ("SSD") for a number of reasons, first because I am a San Diego local, and second, because I wanted to see some amazing views of both land and water when I jumped. I took my wife with me, who was equally both more excited than me, and more nervous than I was. Upon our arrival at the site, we were walked through the process of registering and preparing for our jump by SSD personnel who were calm, knowledgeable, and relaxed. After signing our lives away again on the requisite American-don't-sue-us-if-you-die releases, we were led out to the jump area and strapped in to our harnesses by SSD personnel who made us feel as safe as we could feel (after all, we were about to jump out of a plane), and allayed my wife's concerns with good humor. Once we were ready, we sat down on the nearby chaise lounges, and watched the planes come and go, and other jumpers load and land.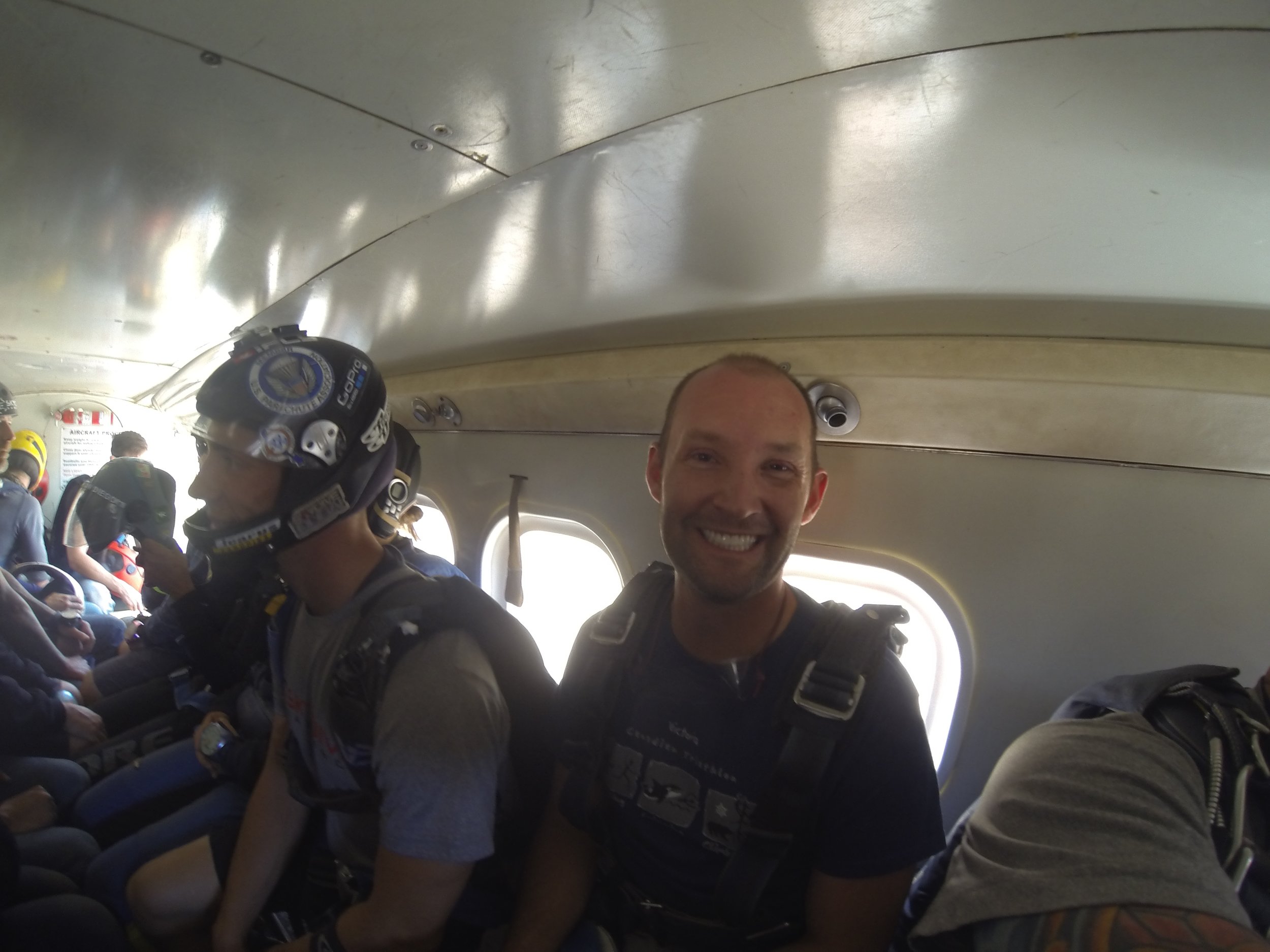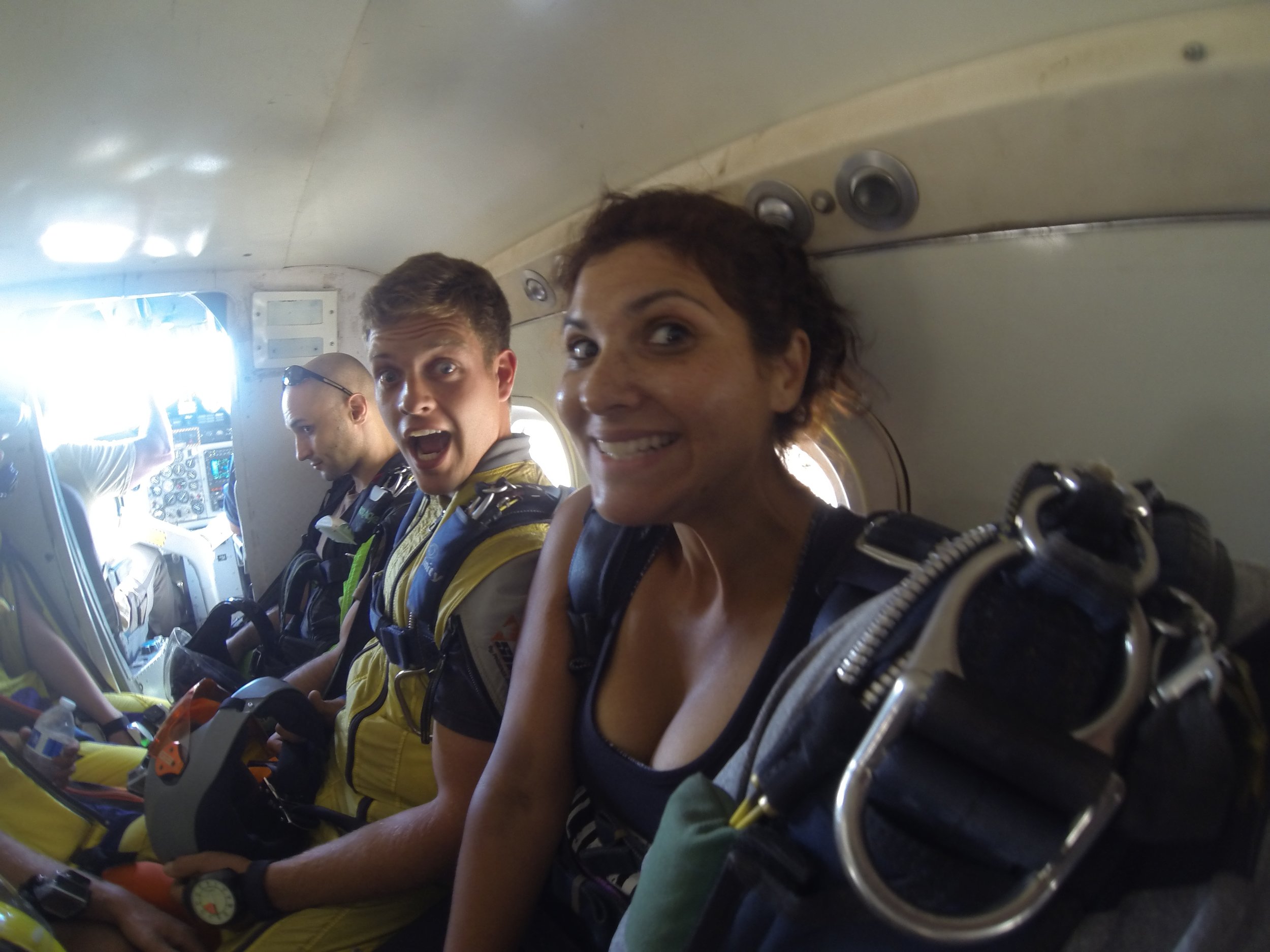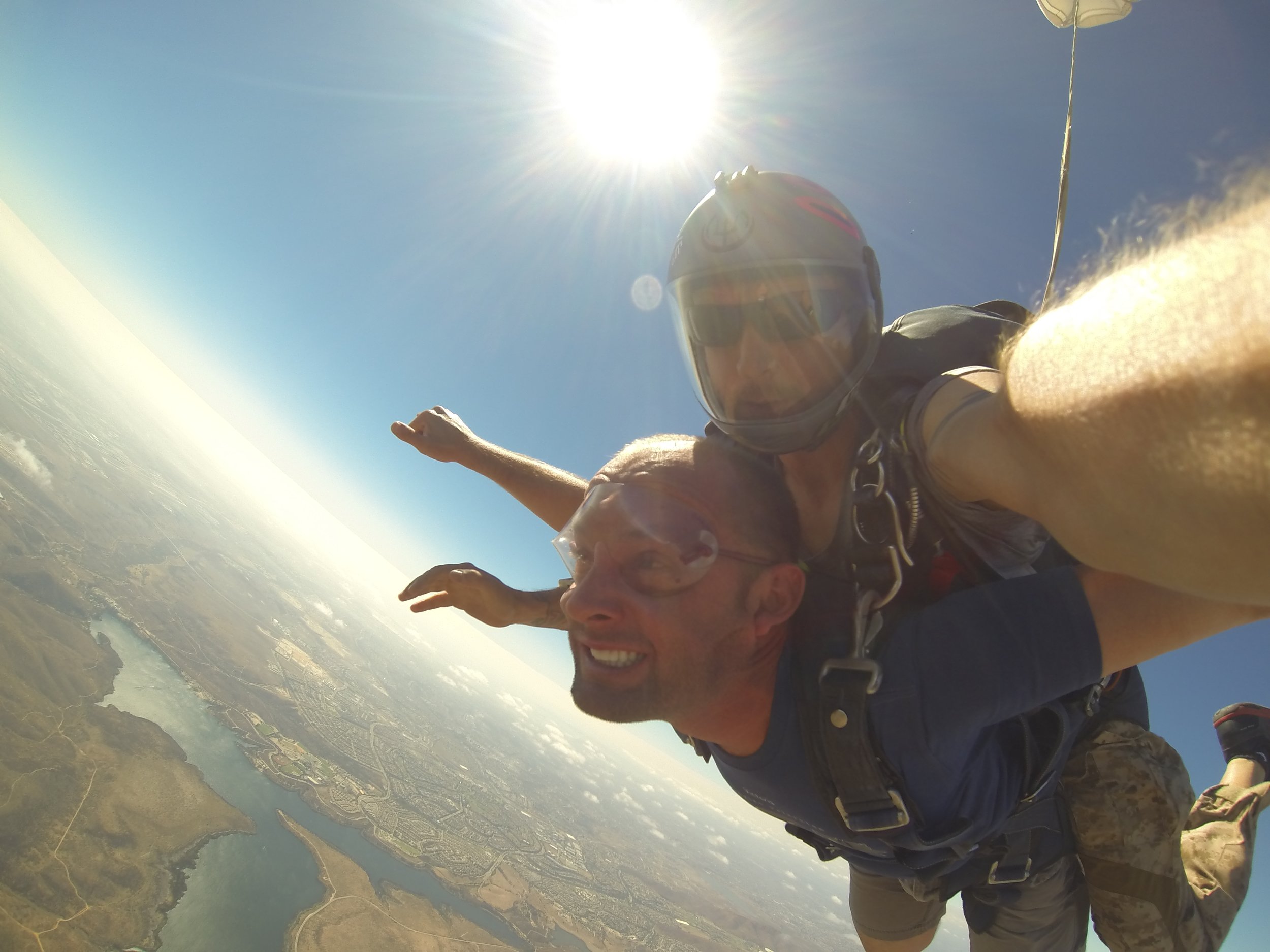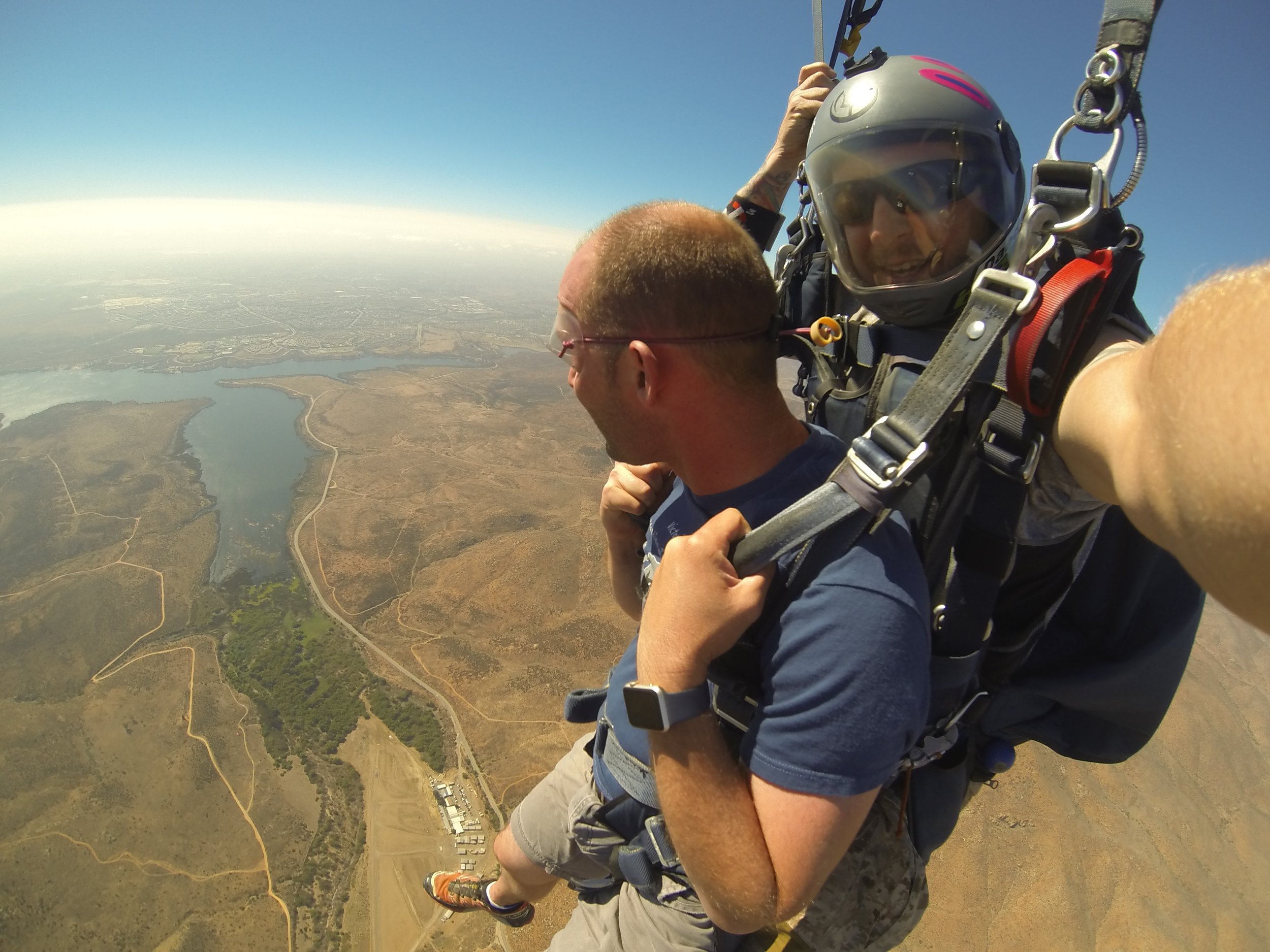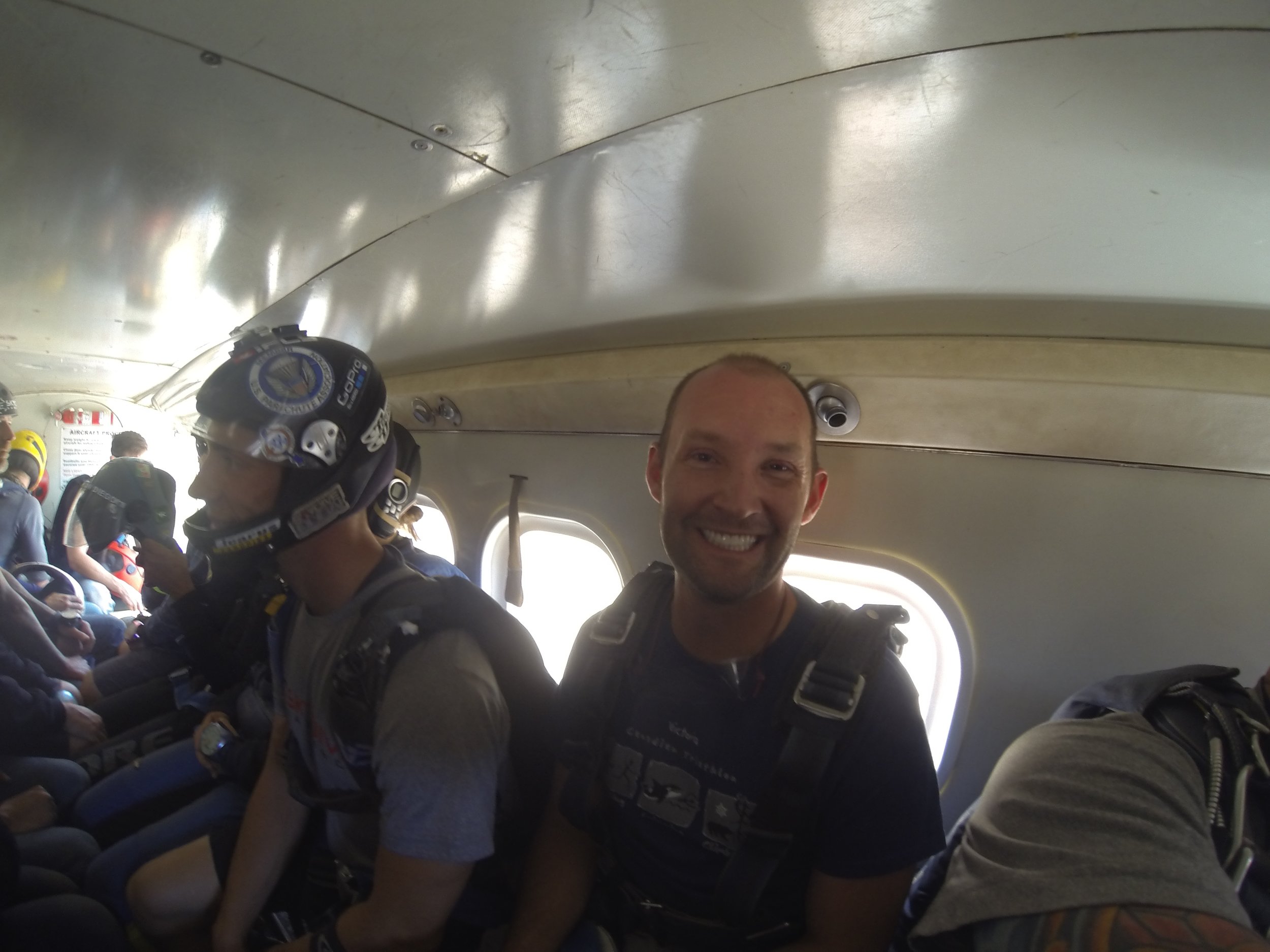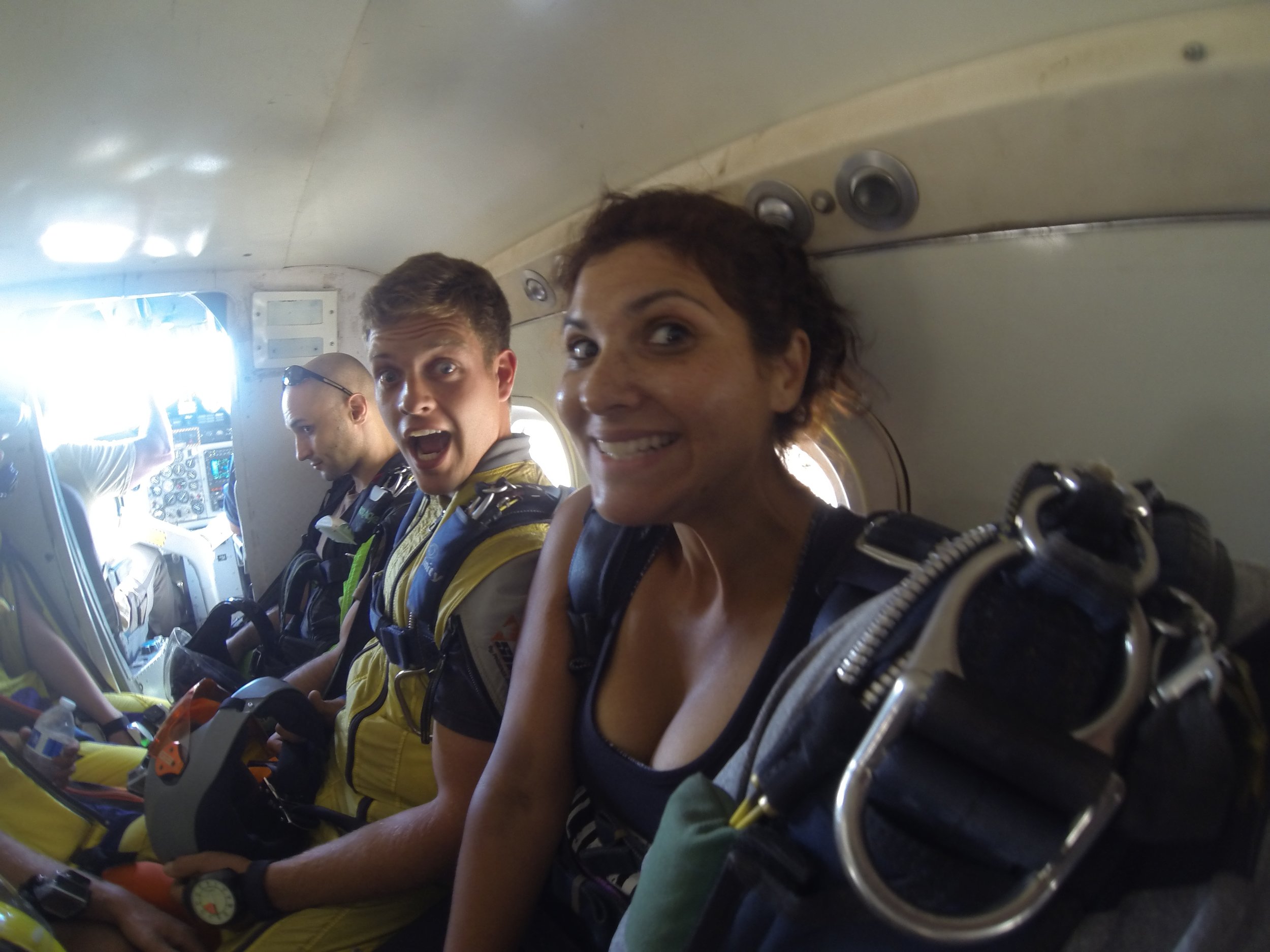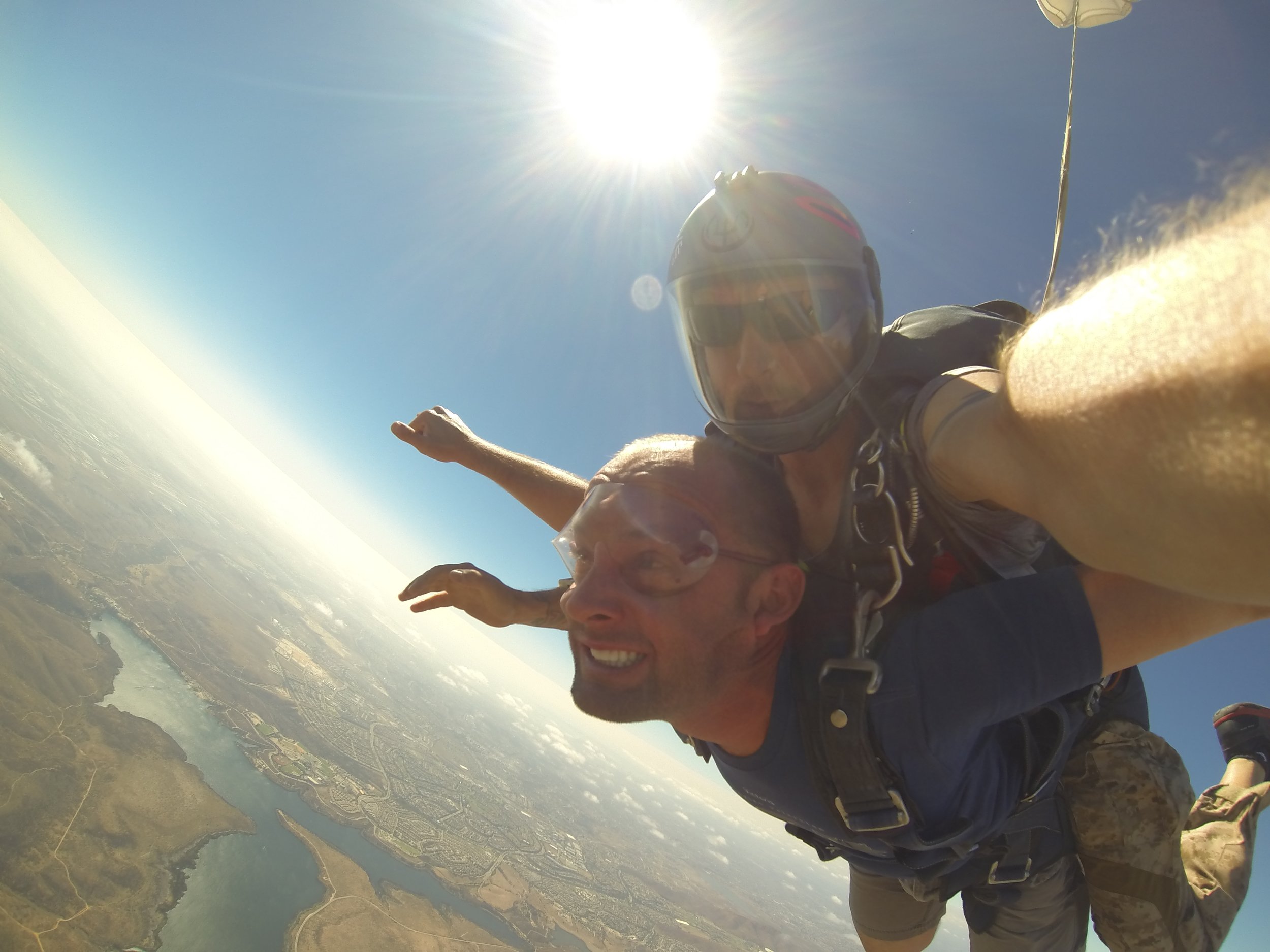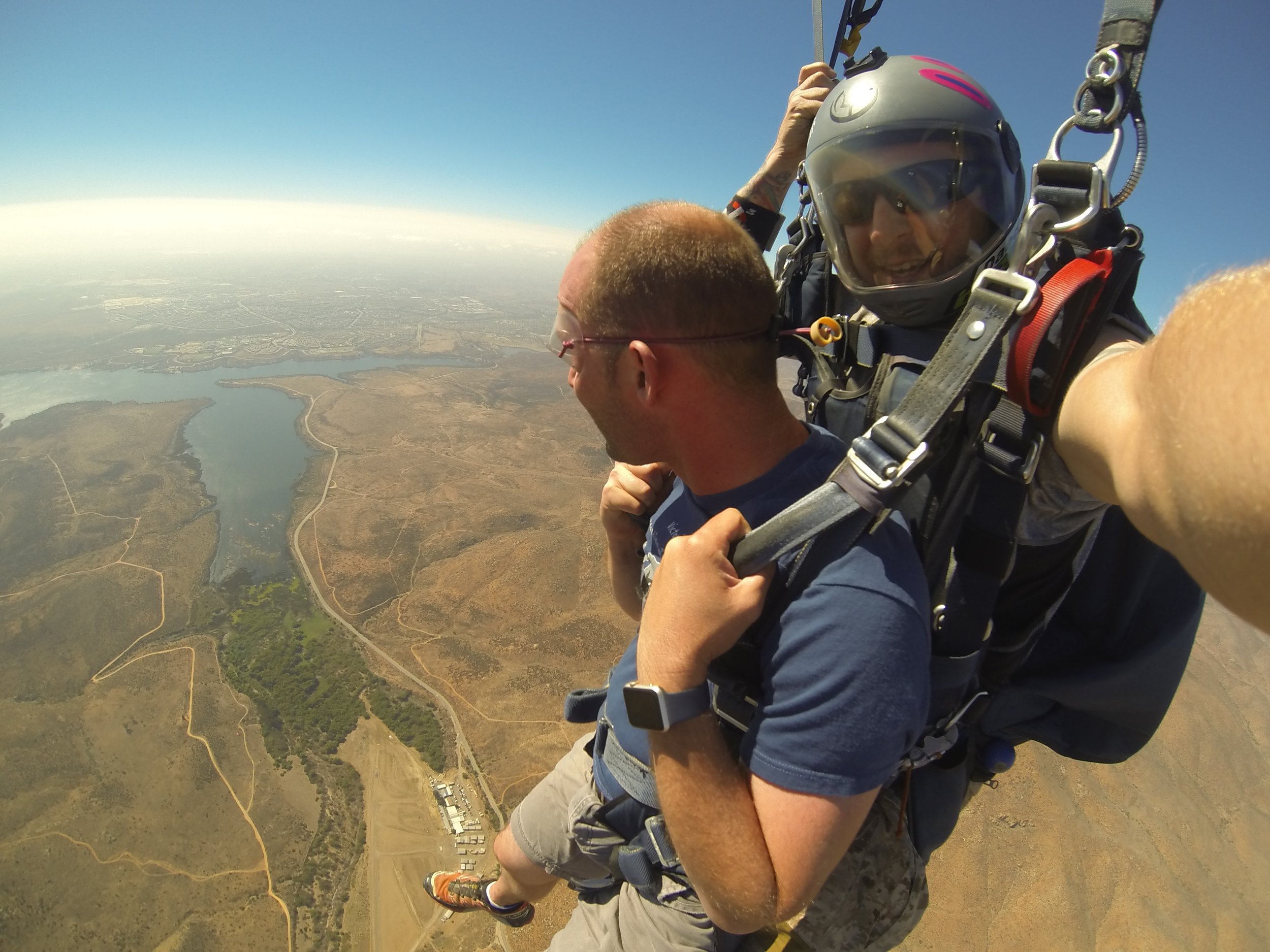 For me, waiting for our turn in the plane was one of the hardest parts, as it made me realize that I was really about to jump out of that plane. Even though it was a sunny Sunday, the wait was not that long, and before we knew it, our instructors were there to shepherd us to the plane. From there, we walked across the tarmac and boarded the plane; which while medium sized, suddenly became a lot smaller when filled with novice and professional skydivers and their gear. Again, for me, riding in the plane was perhaps one of the more nerve-wracking parts of the experience, in part because it's a different type of flying experience, and in part because its disconcerting to have a door that can open and shut in a plane during flight. Once we arrived at near our jump altitude, our instructors calmly got us in position to hook into their harnesses, which while somewhat awkward, was handled professionally for the five or so minutes we were buckled together on the plane. When it came time to actually jump, I felt super comfortable with the SSD instructor, and did not really notice the transition from standing in the doorway of the plane, and jumping out.
Once I was out of the plane though it was like stepping into a different world. From the moment one starts to fall, one is in an experience that almost defies description, as there are so many emotions, thoughts, and things to do during the relatively short freefall and parachute time from plane to ground. While skydiving is not for everyone, especially those that have extreme fears of heights, falling, or confined spaces, I have to say that in my mind, it is something that everyone else should experience, as it is that amazing of an experience. While I'm not going to detail everything that I felt, what I will say is that most importantly, in the hands of an SSD instructor, I never felt fear during my tandem jump. During my descent, I had great views of San Diego, the Pacific, Otay Lakes, the local mountains, and yes, even into Mexico. The only regret for myself – and my wife was that the experience was over too soon. Based on the level of service we received, and the experience, I'd highly recommend SSD for skydivers of all levels, as it is a great experience in a beautiful setting.
Directions/Costs: Skydive San Diego is located at 13531 Otay Lakes Road, Jamul, CA 91935, which is a twenty-five minute drive to the East of downtown San Diego. Costs vary for a tandem jump, depending on whether one has a group, books online, or is interested in getting photos or videos. Both of us booked in advance, and elected to get photos of the experience, which we were super happy with. Generally, an individual will pay at least $149.00 for a tandem jump, and prices increase from that point.