I'm a fan of petroglyphs, pictographs and anything old. It's intriguing to me to see things from the ancient past, and wonder what inspired them and what they mean. It's also interesting to see what similarities exist from site to site, and what differences also exist. It's also fun to imagine what exactly life was life when they were created thousands of years ago. In California, where I live, most petroglyph and pictograph sites are either require a hike or some exploration; and while I don't mind either of those activities, they're generally hard to find and in some cases, found by too many people. On a number of occasions, I've been told of great rock art secreted away in remote areas, only to find that innumerable prior "adventurers" have already ruined the spot, or the art. Because of these unfortunate experiences, I'm also a little skeptical when I research or hear of a new spot for rock art, and temper my expectations accordingly.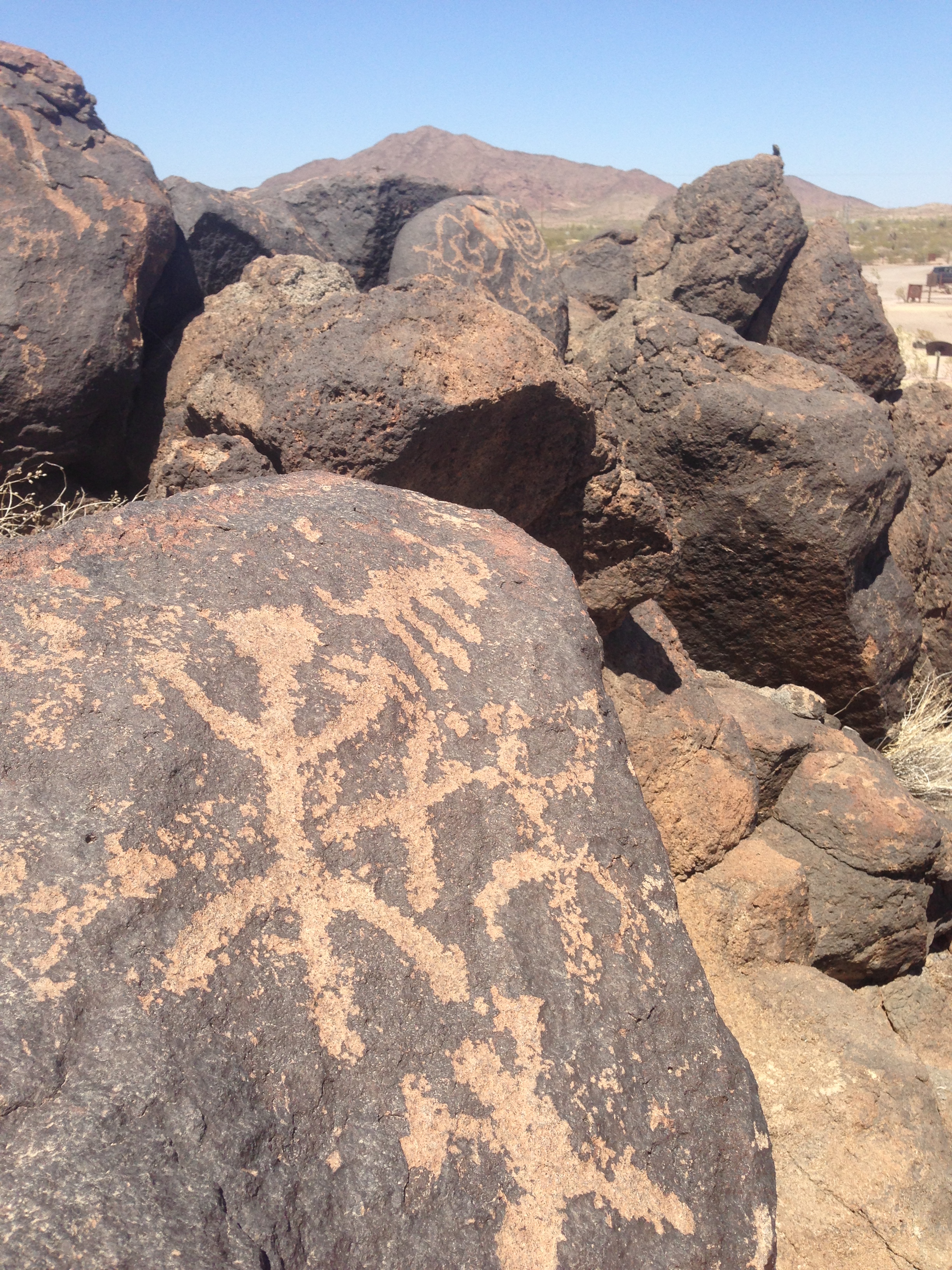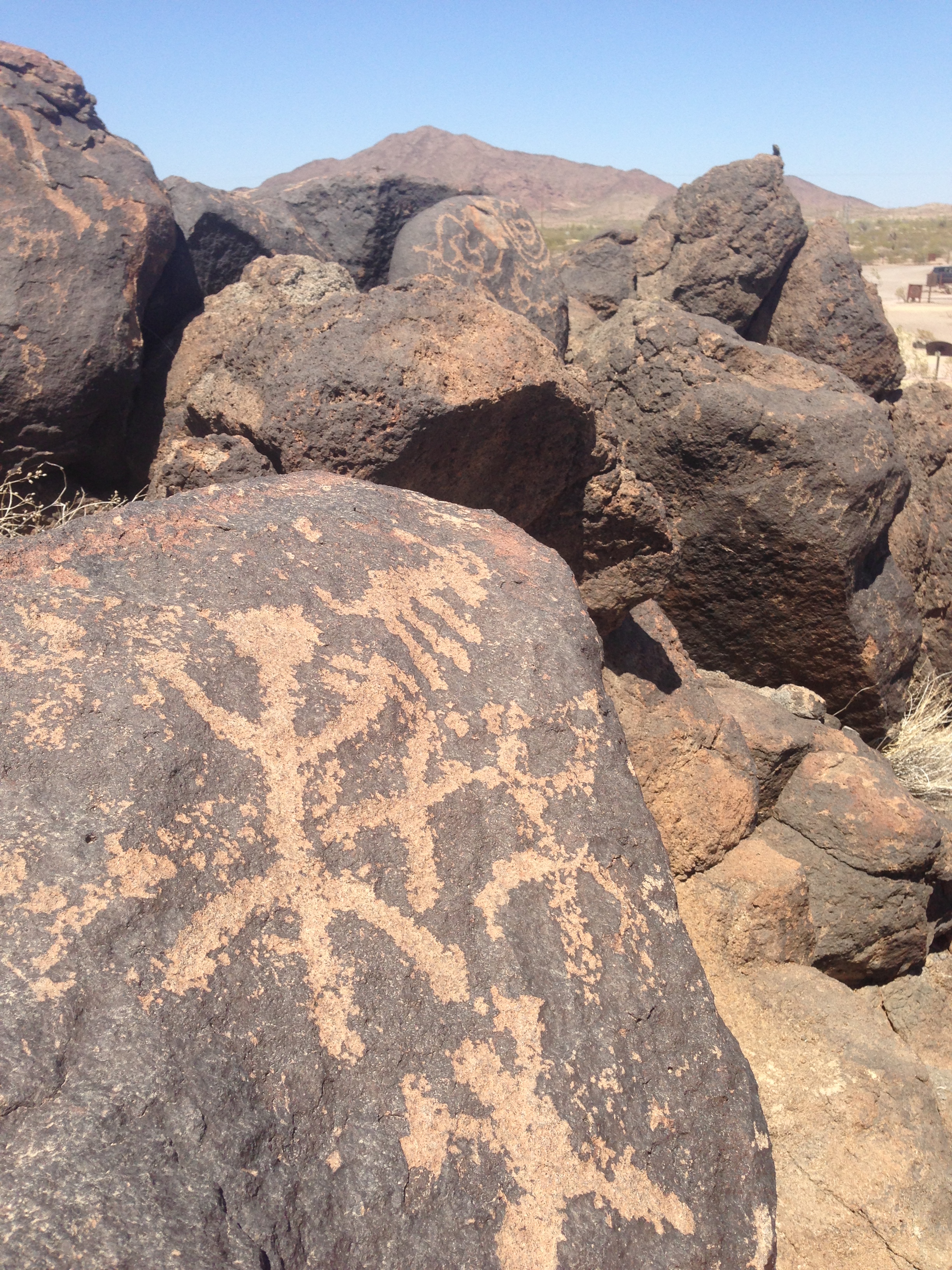 Last weekend, my girlfriend and I had an opportunity to head out to Phoenix for a bit, and when I was finalizing our plans, I looked online to see what strange things were available to do in the area. When looking at our driving route, I saw that we would pass by Painted Rock Petroglyphs on the I-8 (or, as some maps say, Painted Rock SP). I took a quick gander at what was available online (Information here, and here), and with my diminished expectations, figured that while it was worth a stop, the chances of seeing anything truly amazing was slim to none as it was pretty much right off the freeway.
When we pulled off the freeway in the 95 degree heat, I figured we'd be there a couple of minutes, tops. After all, it was completely impausible that great rock art would be that close to a major freeway. And, when we arrived at the abandoned BLM lot, I felt even more certain that we weren't going to really see anything. I figured that maybe we'd see a partial carving and it would probably be mostly obliterated by KILROY WAS HERE or THE WALKING MAN COMETH or JOHN GO TO PROM? COUGARS '99! But since I explore even on off days when I have a cynical attitude, I got out of the car and started walking around. At first I saw was what I expected to see – graffiti. The one cool thing about this graffiti, was that it was not the above type of graffiti – it was old graffiti. I saw a 1906, an 1840-something, and some dates before that. That definitely piqued my curiosity. I then saw some well preserved pieces of rock art, and while that was fairly awesome, that was nothing compared to what I saw when we came around to the far side of the hill. As we came around to the far side of the hill, I blinked, because I didn't believe what I was seeing.
In fact, for about fifteen seconds, I thought that even though it was a dry heat, and even though I had only been outside for a couple minutes, I had heatstroke and was seeing things. The reason I thought I was seeing things? Almost every rock in my field of view had a petroglyph on it. Even better, 99.9% of these pieces of rock art were undisturbed and as pristine as they could be for being thousands of years old. It was so unbelievable it was like a mirage. We stayed for a while longer, comparing drawing to drawing, before deciding to head out of the sun and onto Phoenix, but my takeaway from the site is this: it is a must visit. Sure, it's off the freeway, and sure, from Ocotober to February, it's probably quite popular (there is a campground), but the pluses – getting to see pristine rock art in mass quantities, getting to stand where Juan Batista de Anza roamed, and getting to wonder why so much art was placed in that spot, and other things far outweigh any negatives. It was a great quick adventure in an obvious spot – not something that always happens, even though adventure is everywhere.
Directions: The site is located 12.5 miles North of I-8 at Exit 102, Arizona. There are signs both on the Eastbound and Westbound sides of the I-8, and there is a sign directing traffic toward the site from the freeway exit.
Tips: If you are going in the summer like me, bring water. Also, don't be an idiot. The site is in great condition, especially considering there is no full time guard or BLM ranger. Don't be the person that ruins thousands of years of history for the rest of us. Do enjoy what's there, and enjoy the mystery of the sketchbook of the ancients.