In 2016, the Coachella Valley is known for one thing, and one thing only: the Coachella Music Festival. However, it is an area with a rich pre-European history; an interesting mining history; and plenty of unique places such as Salvation Mountain, Slab City, Bombay Beach, the Mud Pots, the International Banana Museum, and many more. Most importantly, it is also where California's most enjoyable desert hike is located, Ladder Canyon. While I realize this is a bold statement, I feel comfortable making it after all the time I've spent over the years in California's deserts. It's also important to note that while Ladder Canyon is California's most enjoyable desert hike, it is not the most accessible, nor the most challenging. Having said all of that, for those outdoor adventurers that are willing to devote a little time and effort in getting to the location, it is a spot that is well worth a visit.
The Ladder Canyon hike is in actuality, a loop hike through two canyons in the Mecca Hills Wilderness, both the aforementioned, Ladder Canyon, and Big Painted Canyon. The Mecca Hills Wilderness is an area of protected Bureau of Land Management ("BL M") land encompassing some 26,243 acres just north of the Salton Sea. In addition to Ladder and Big Painted Canyons, the area contains many unique features due to the convergence of the North American Plate and the Pacific Plate. This convergence has led one of California's most notable – and active geologic features, the San Andreas Fault, whose southern end is directly underneath the Mecca Hills. The Ladder Canyon loop allows a hiker to explore both the slot canyons of the wilderness region, and the larger washes and badlands features of the area. If all of these features weren't enough of an incentive, sections of the hike involve traversing ladders installed into the canyon walls.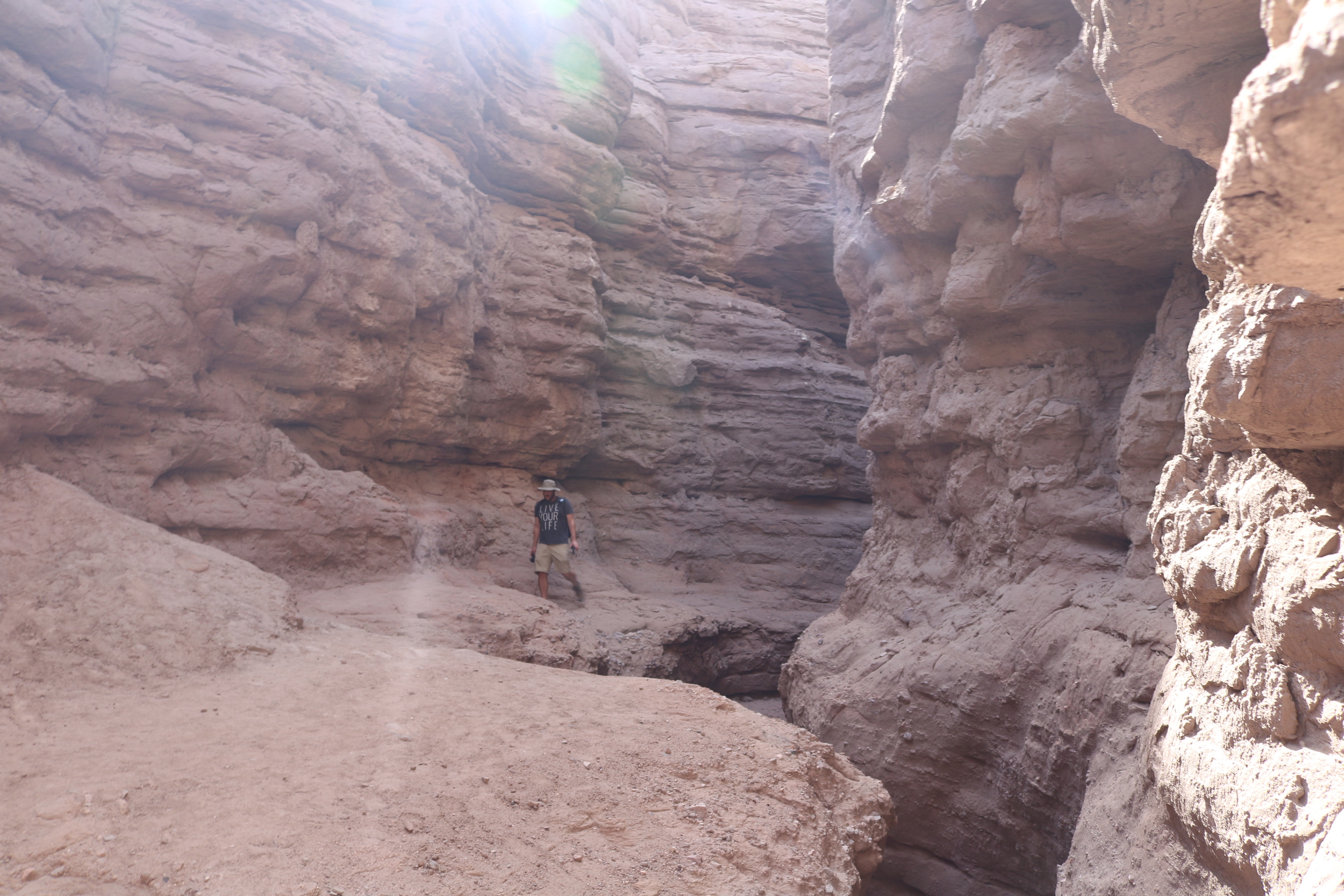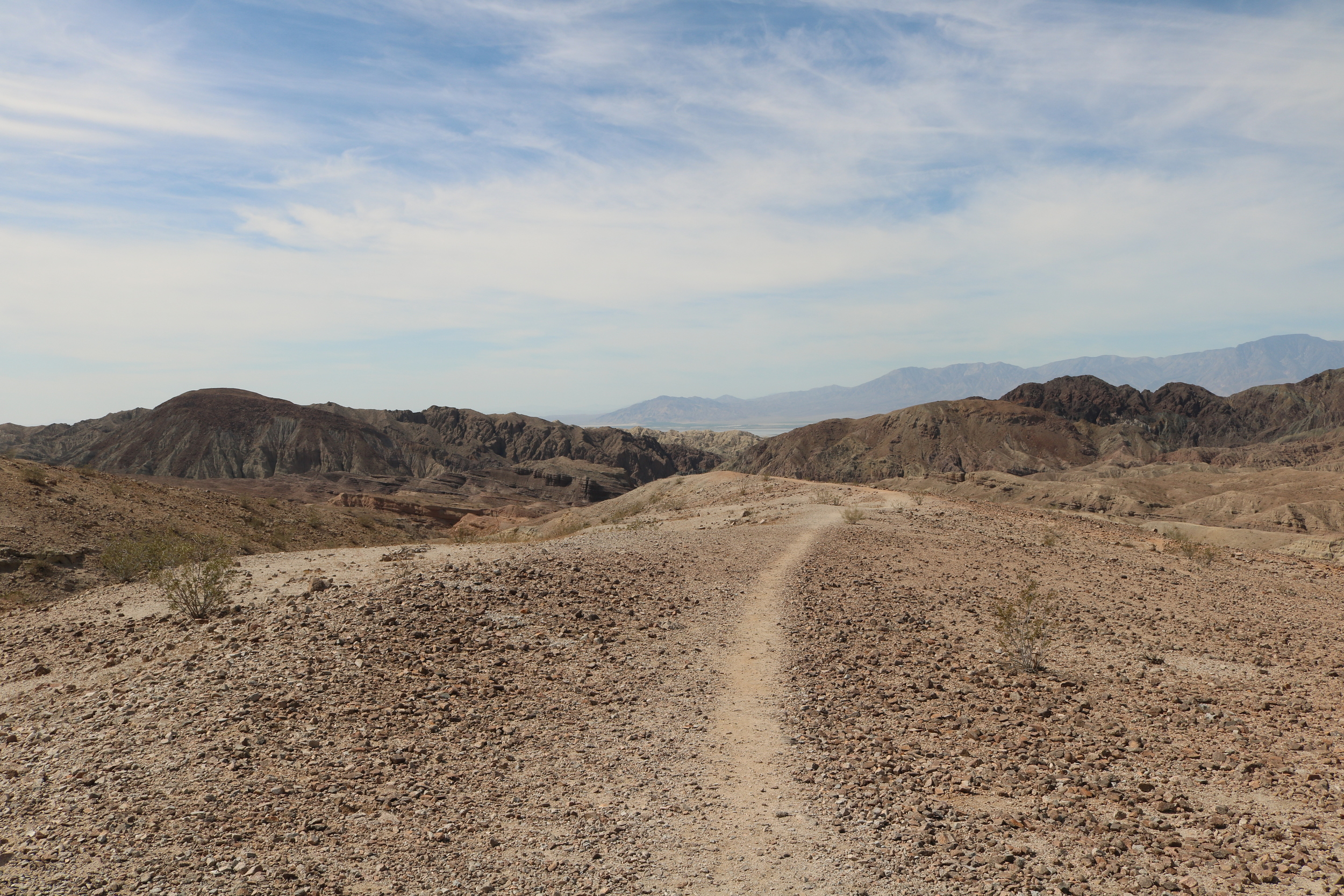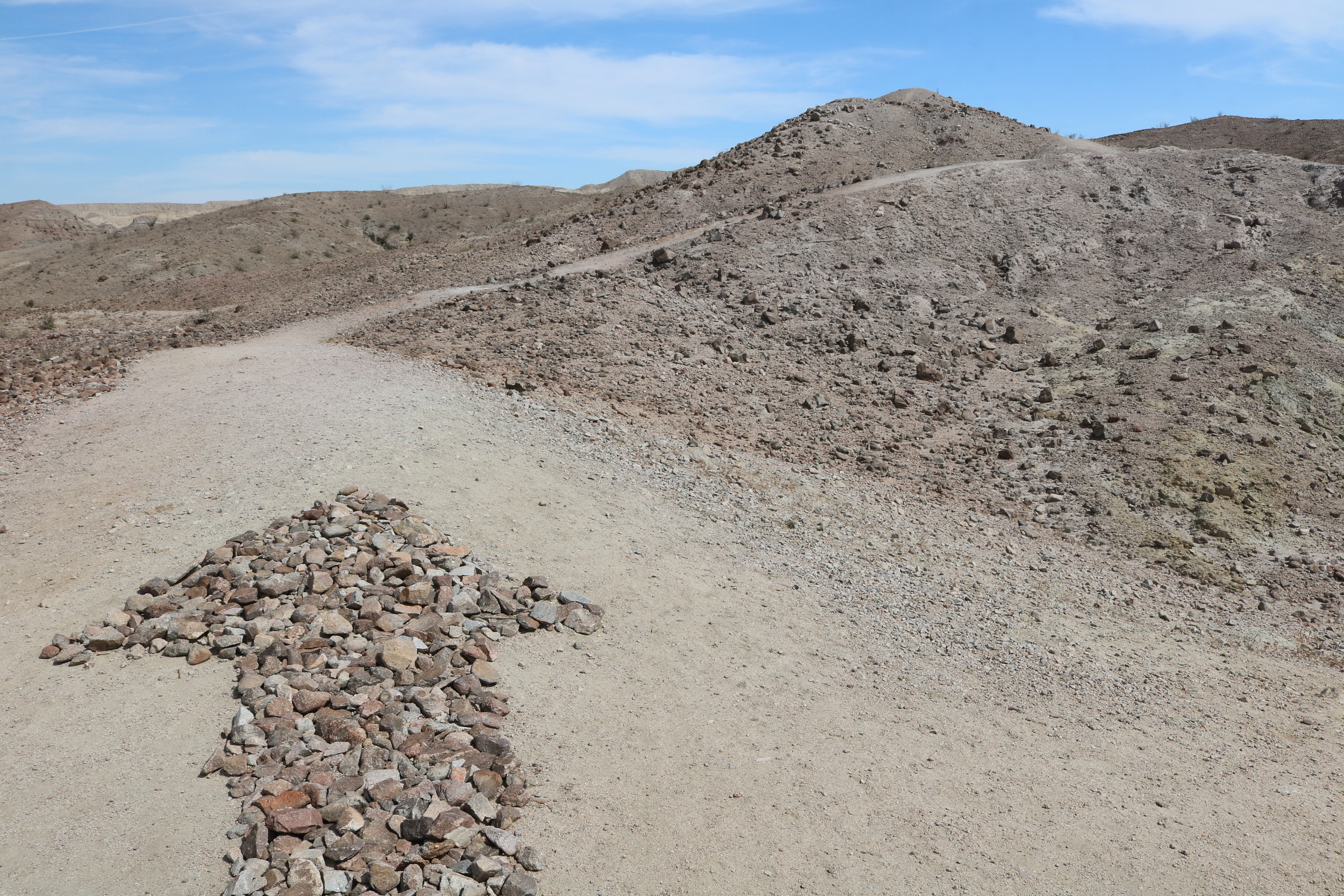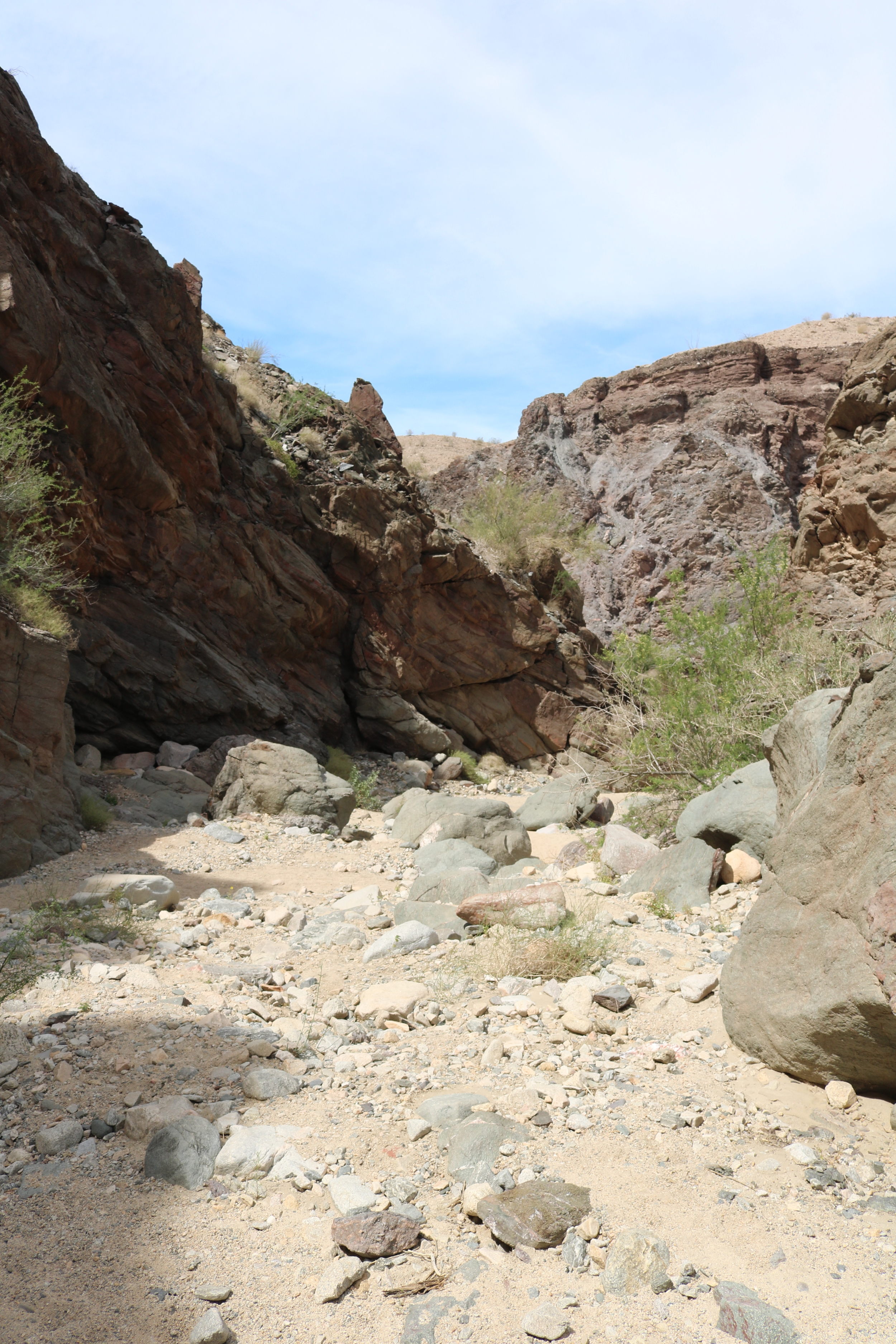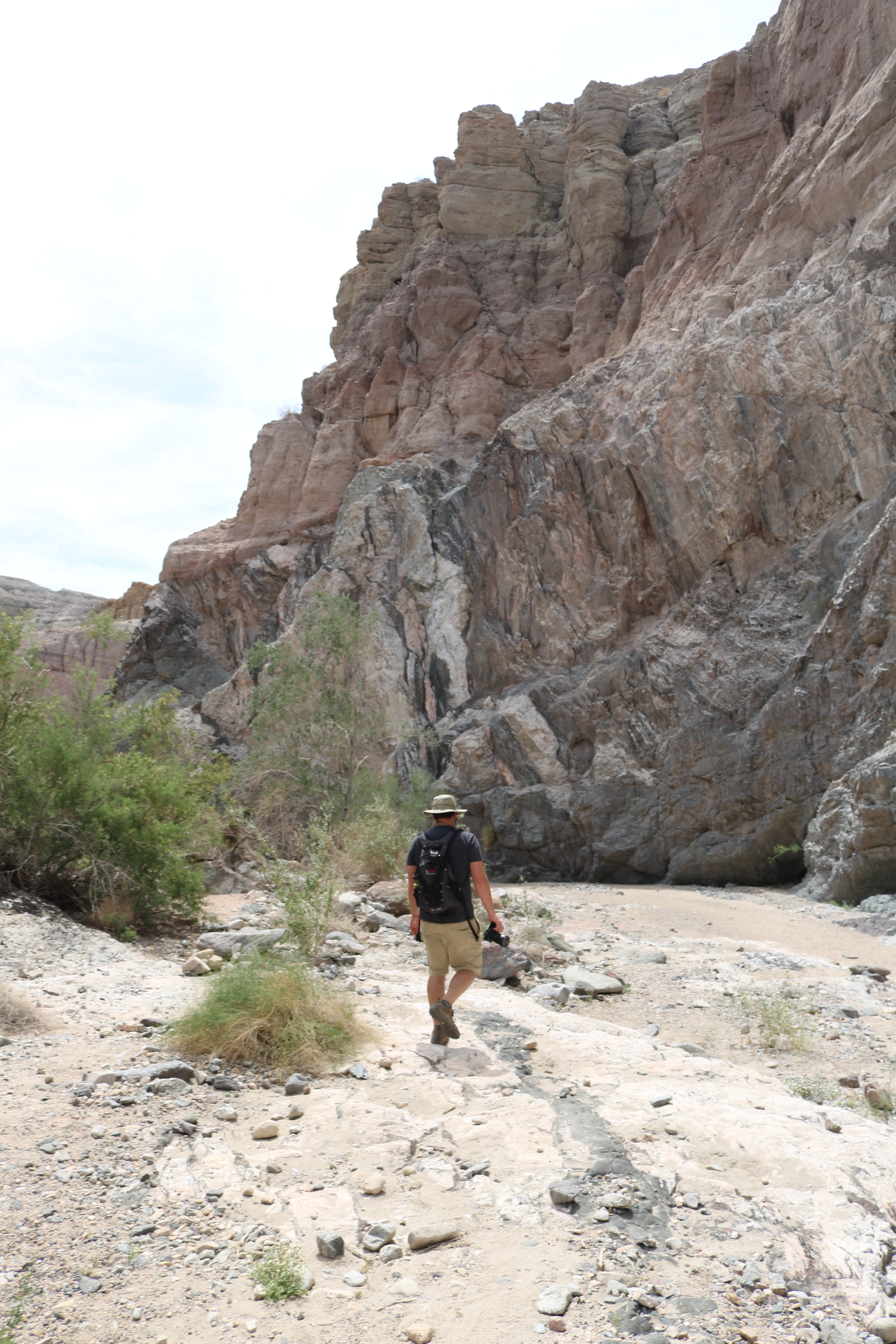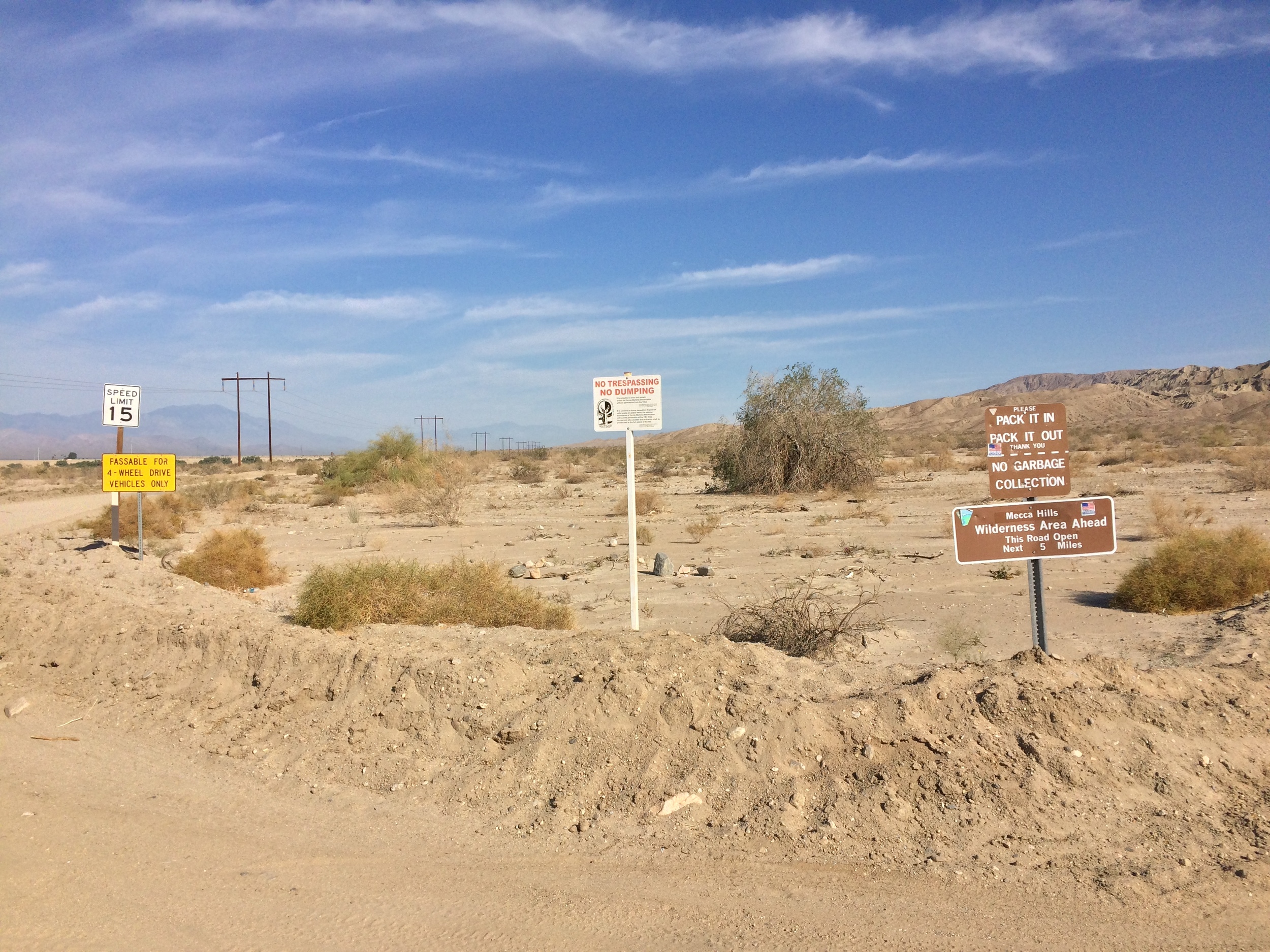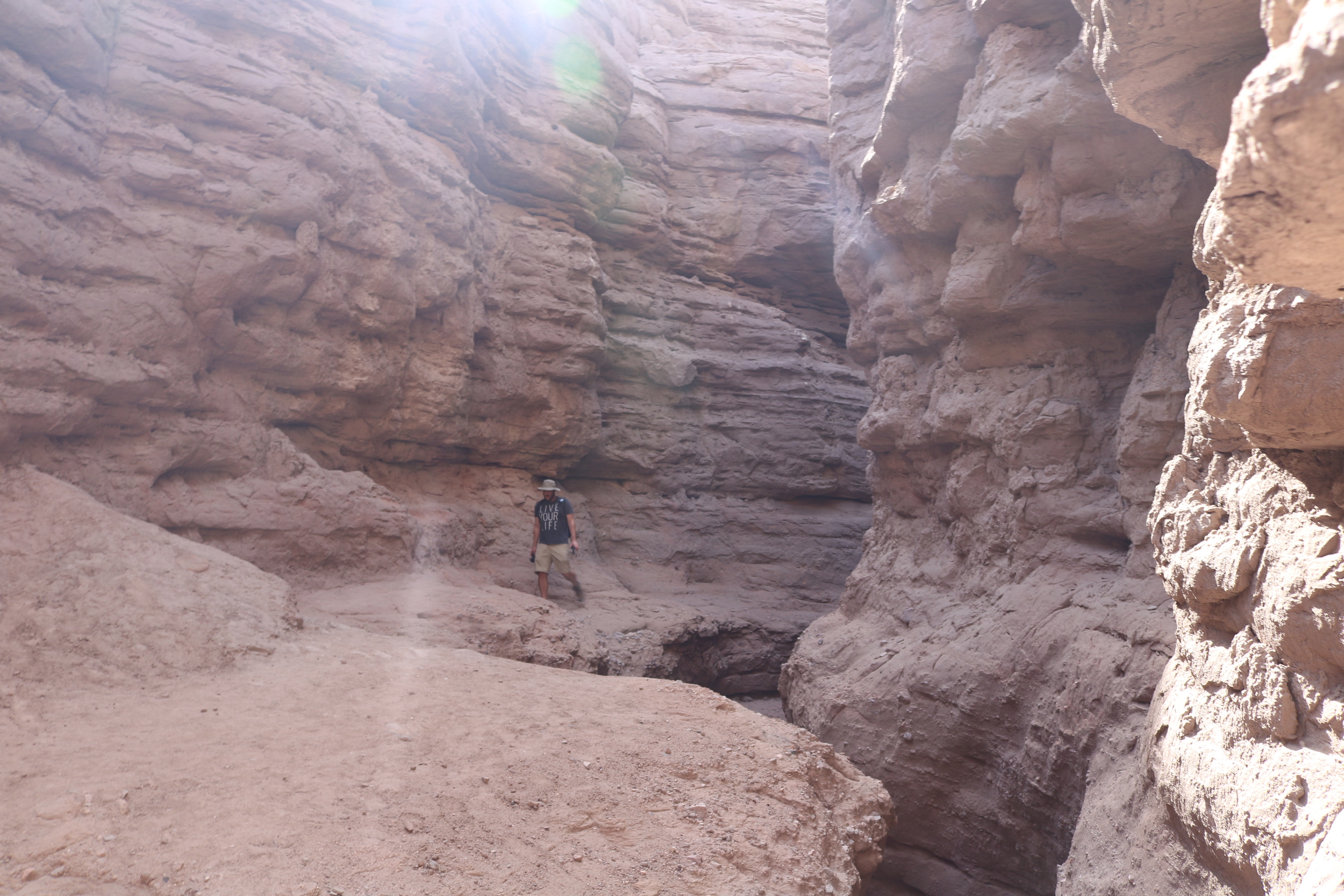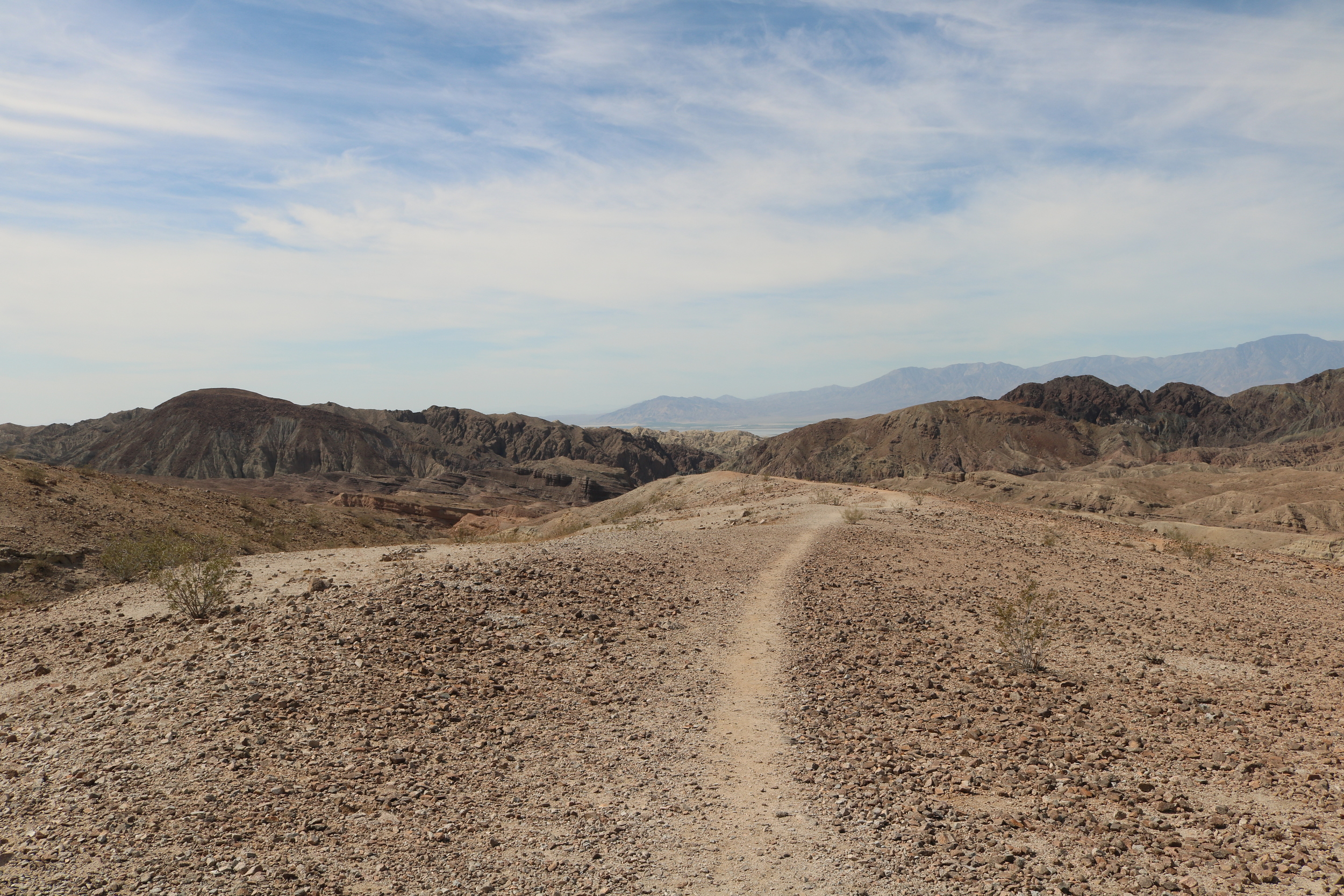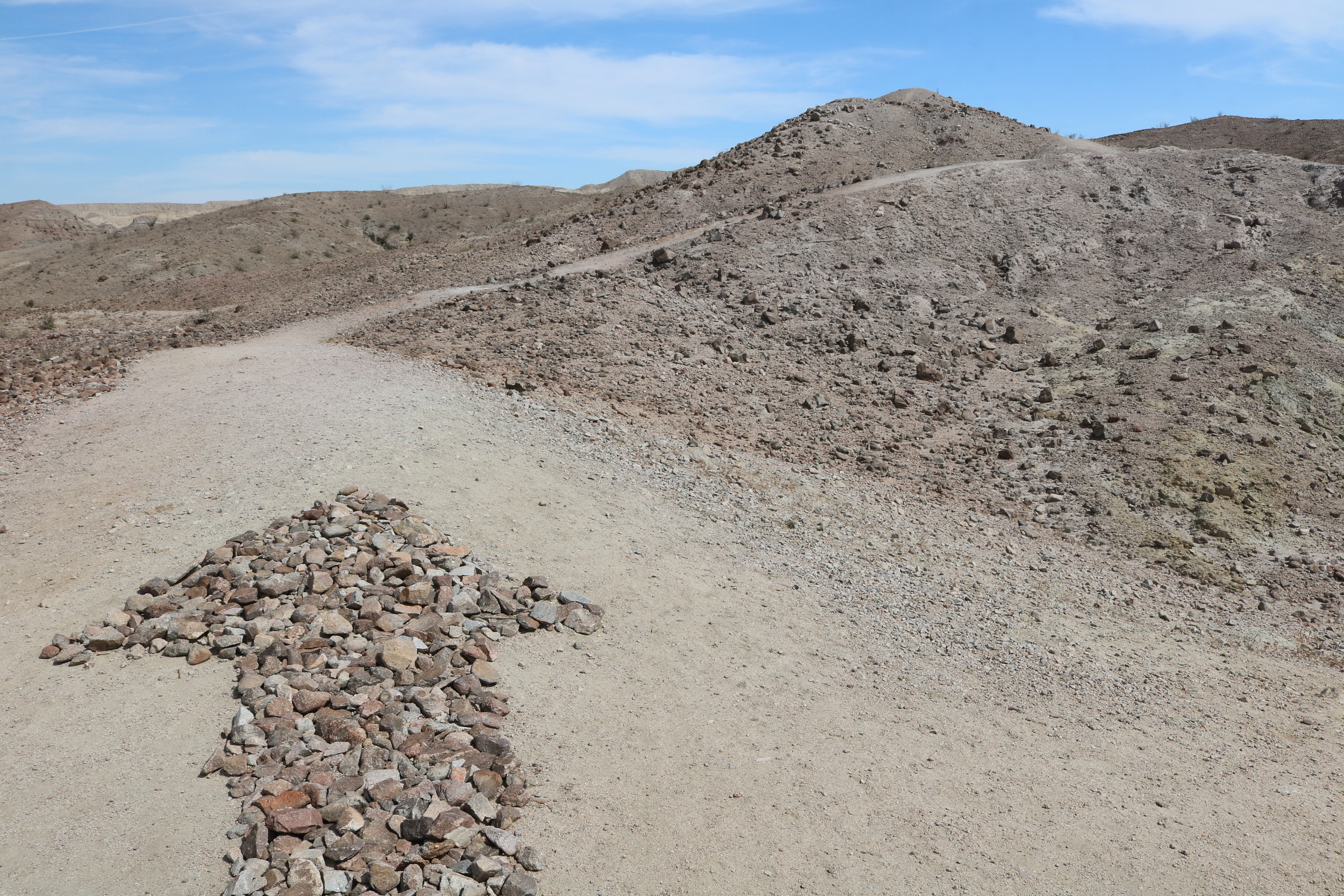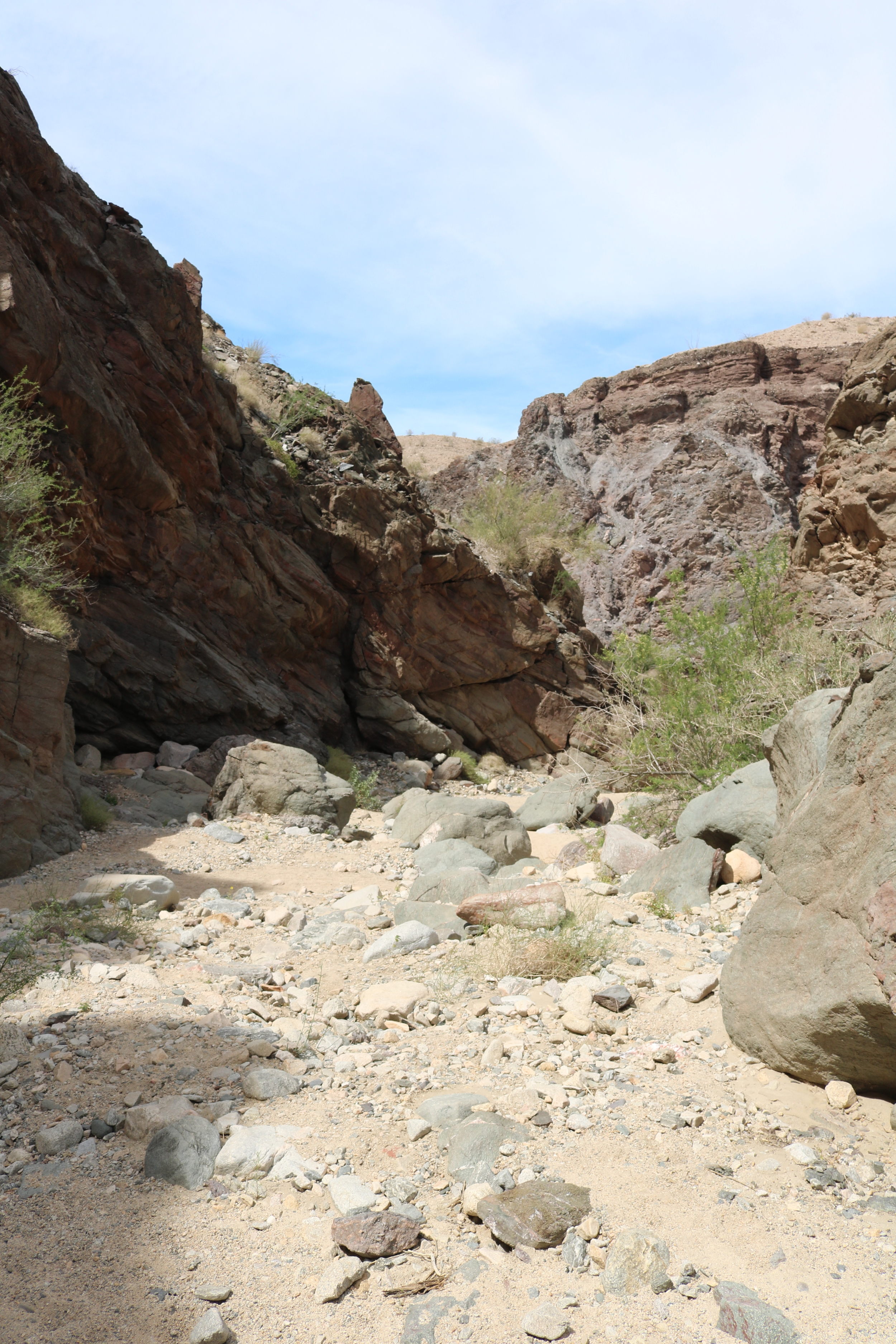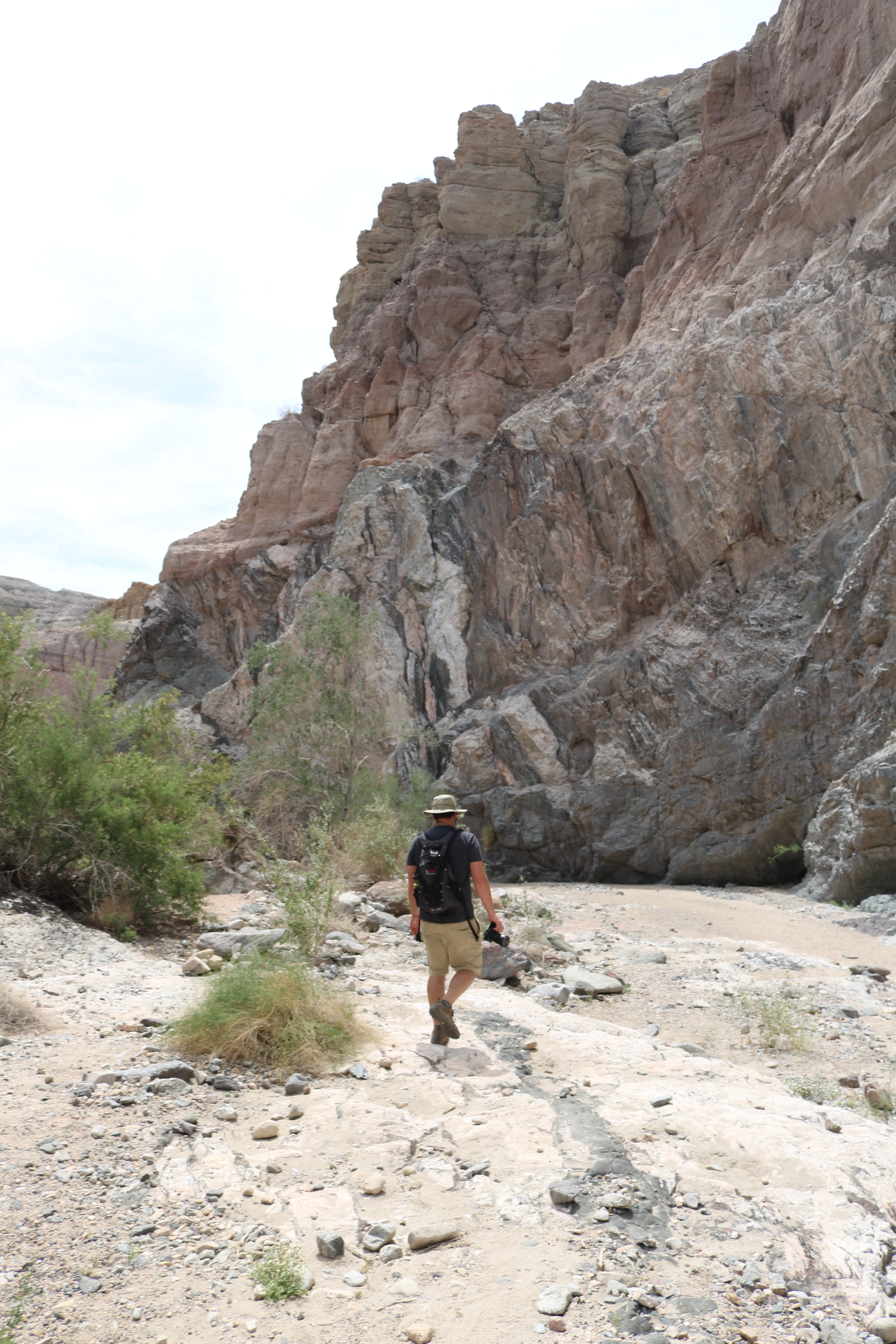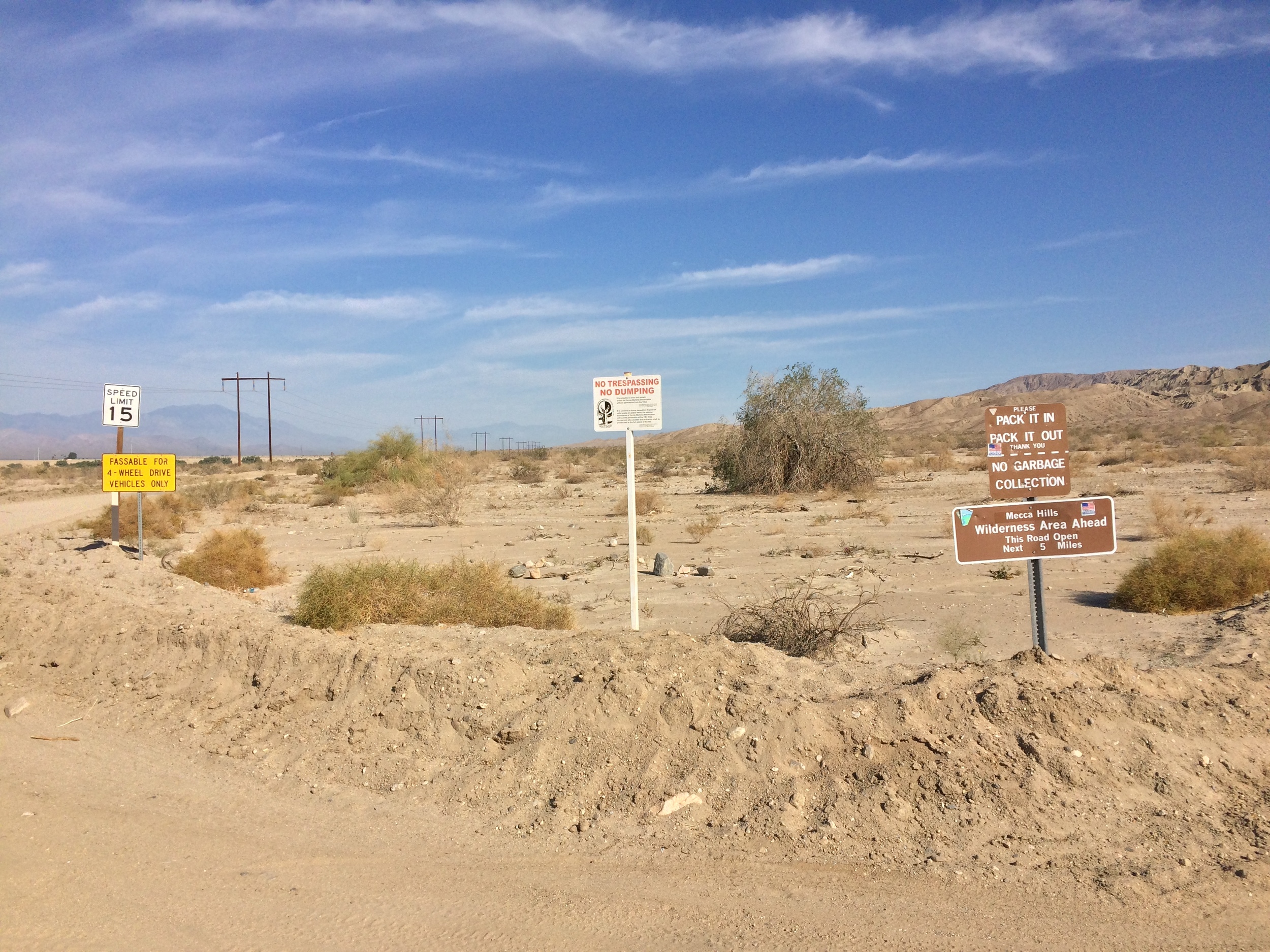 Directions: The most difficult part of the Ladder Canyon hike is getting to the trailhead, which is located near the town of Mecca, California. While Mecca has a great name, it is a small town in the Coachella Valley. Visitors coming from the West (Palm Springs/Palm Desert) can follow Highway 111 directly to Mecca via the 66th Avenue exit, which takes one through Mecca. From the East, visitors will need to exit Interstate 10 in Indio, and then follow Highway 111 or Highway 86 to Mecca. From Mecca, 66th Avenue turns into Box Canyon Road, which visitors should follow for four and a half miles to the East. At the four and a half mile mark, there is a turnout on the left (North) side of the road for Painted Canyon Road, which is the road to the trailhead.
Before I go any further, a couple of things about the area are worth discussing. First, as I mentioned above, this area is somewhat remote. There is an ARCO Gas Station/Strip Mall Complex on Highway 111 near Mecca. This is the last available place to get gas in the area, and a great spot to fill up, or get cold drinks for the hike. Separately, when I did the hike, I went with Josh from California Through My Lens, and in researching the hike, we found some conflicting directions that led people over the 4WD roads of the Orocopia Mountains from Interstate 10 to the location described above (the Painted Canyon Road turnout). While I suppose it is theoretically possible to get to Painted Canyon Road that way (in a 4WD vehicle), the route we took described above is the fastest way possible.
From Box Canyon Road, Painted Canyon Road is an unpaved, and mostly ungraded road. On occasion, it may require a 4WD vehicle, because it is not maintained. However, when Josh and I went in early 2016, the road was passable in a standard drive car. From Box Canyon Road, it is another four and a half (4.5) miles on Painted Canyon Road to the trailhead. While Painted Canyon Road may be passable in a standard drive vehicle, drivers should exercise caution when driving it, as there may be hidden obstacles both natural and unnatural (trash/rebar) in and along the road. After four and a half miles, Painted Canyon Road ends at the parking area and trailhead for both Ladder Canyon and Big Painted Canyon.
The Route: While the Ladder Canyon Loop and or Big Painted Canyon is a relatively easy route to follow, hikers should always have either a map, or GPS unit, as this is a remote desert area. From the trailhead, hikers will want to follow the canyon for a quarter mile (.25). At the quarter mile mark, there is a small BLM sign pointing left (North/Northwest) and a large rock arrow pointing the same direction. This is the turn for Ladder Canyon. Hikers wishing to solely explore Big Painted Canyon can continue on up the main, larger canyon for a short, relatively flat hike. Similarly, hikers wishing to solely explore Ladder Canyon can head left, and exit at the same junction for a short hike with a little more elevation gain. When Josh and I went, we elected to follow the loop, which connects Ladder Canyon with Big Painted Canyon. This route goes through Ladder Canyon, and returns down Big Painted Canyon to this trail junction, and is six miles roundtrip with 450 feet of elevation gain.
From the junction, the trail heads up into Ladder Canyon on a short foot trail that requires a moderate amount of scrambling. After ascending for a tenth of mile, (.10), hikers will find themselves in a slot canyon, and in front of the first of four ladders. These ladders are not provided by the BLM; nor are they maintained by the BLM, but are donated by local hiking groups. As such, hikers should check the ladders before using them to ensure they are in working order. From the first ladder, the trail heads through a number of tight slot canyons and smaller ladders, before opening out into a larger canyon. While there are a number of slots that hikers can ascend, the route stays in the main canyon, and is delineated by a number of rocks cairns and arrows. Again, while not maintained by the BLM, the route is fairly clear to follow.
After ascending one last short ladder at the 2.75 mile mark, the trail ascends to the top of Ladder Canyon. From this point, hikers will find themselves next to a large rock cairn, a large rock arrow delineating the direction to follow, and with fantastic views of the maze-like Mecca Hills region, with the Salton Sea in the far distance. From this point, hikers should follow the rock arrows up and over the butte toward Big Painted Canyon, before descending back down into Big Painted Canyon. The route then follows Big Painted Canyon back down, passing a side canyon (also with ladders) that can be explored, before ending at the parking area where the hike began.
Tips: Without being too disclaimer happy, this is a hike that should not be attempted in the dead of summer during the middle of the day. Similarly, if ascending or descending partially secured ladders in narrow canyons sounds daunting to you (even though they are short distances), this is not a hike that you should attempt. And, as always with any remote desert location, hikers should be prepared with plenty of food, water, maps, and gas. Having said all that, this hike has great views, and is a great experience that is attainable by anyone with a moderate degree of fitness. The ladders provide a little added bit of adventure that makes it a fun experience as well, and all of this placed together led me to make the pronouncement I did above. If you go, be sure to be prepared, leave no trace, and have a good time.