Back in the near-distant past, after dinosaurs roamed the Earth, I decided that I wanted to climb Telescope Peak. At that point, I didn't know much about Death Valley other than what I had read and researched. I know that this was truly a long time ago, perhaps during part of the dark ages, because I had gleaned most of my information from actual books and paper maps. I left after work for the desert, and by the time I reached Emigrant Canyon Road within the park, it was very late. As my car glided over the curvy pavement like a giant bat, my eyes drooped slightly. Suddenly, my high beams caught a glimpse of something grey, brown and large on the road. Automatically, my foot hit the brake before I could say "Blue Moon". My SUV skidded on its antilock brakes for a split-second before coming to rest.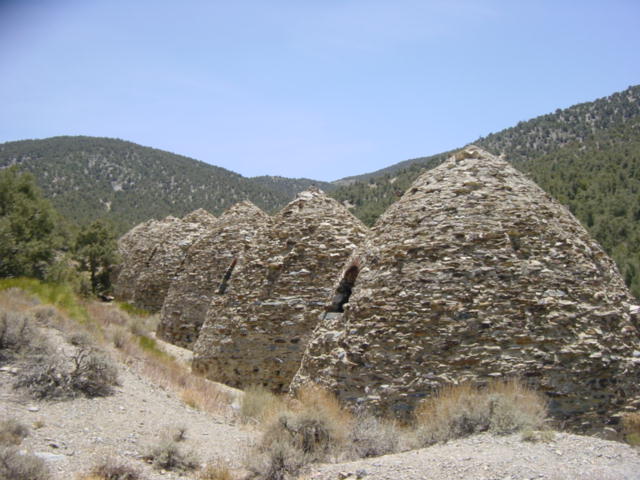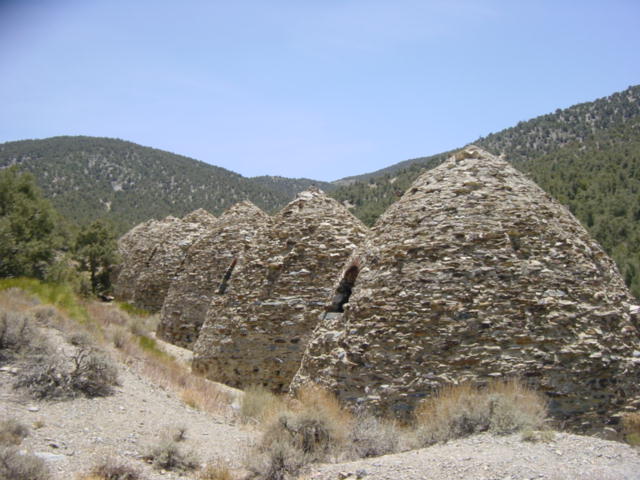 Astonished, I stared at the herd of wild burros that were crossing the road in an utterly nonchalant manner. After that, I was awake. A couple of miles later, my breathing had slowed to a normal pace when my high beams again caught a glimpse of something off the road. I slowed and stared. It looked like there were…stone structures? I immediately rubbed my eyes. I knew that I was over twenty miles away from any sort of civilization. But yet, there were buildings there. I pulled off the dirt road, in case any burros needed to pass me at one in the morning, and stared. There were ten identical buildings, all made from stone, standing tall and silent in the night. Each stone dome had one door at ground level.
Since I still couldn't believe what I was seeing, I stopped the car, and crossed over the gravel to the nearest structure. Once inside, there was the distinctive faint odor of long burned fire, and a far window that let in the starlight.
After I stood there for a moment in the black silence, my mind started to wander to plotlines from every B-grade horror movie I had ever seen: strange structures in the desert; no one around; and an unwary lone wanderer potentially meeting a dire fate. I shuddered against the pre-dawn cold and my imagination and wandered back to my car, but not before giving the structures one last wary look. And that was the first time I went to the infamous Charcoal Kilns of Death Valley.
Today, if I'm in Death Valley, I always try and stop by the kilns, because even though they may not have any role in a B-grade horror movie, they are interesting buildings from a lost world. Per the National Park Service, the kilns were constructed "…by the Modock Consolidated Mining Company in 1877 to provide a source of fuel suitable for use in two smelters adjacent to their group of lead-silver mines in the Argus Range west of Panamint Valley, about 25 miles distant from the kilns." (http://www.nps.gov/deva/historyculture/charcoalkilns.htm).
I find it fascinating that these structures are still standing; and I also am amazed by the amount of work it must have taken to build and operate them in a location that is basically in the middle of nowhere. So, if you're in Death Valley to climb some peaks, view the desert, or for any other reason, I highly recommend that you stop by the Charcoal Kilns, and write your own story involving them.
Directions: Follow Emigrant Canyon Road for twenty four miles; after twenty one miles, the road is also known as Wildrose Canyon Road. At mile marker twenty four, the road becomes unpaved, and is mostly graded gravel. Follow this road for four more miles, and you will be at the kilns. There is no way to miss these structures from the road.
Tips: In wintertime, as pictured above, the last four miles of the road can become choked with varying amounts of snow and or ice, as well as runoff. Judge the conditions accordingly to determine if your vehicle can traverse the terrain without getting stuck.